If your kids love bouncing on a trampoline, then this Skywalker 8-Foot Round Trampoline with Safety Enclosure is the perfect gift. This item is made with durable high tensile strength galvanized steel frame. And it is easy to assemble, as it comes with all the necessary tools and instructions.
Tall enclosure poles are included to provide added protection from falls. This 8′ trampoline also features a protective foam layer underneath the jumping mat which is covered by a durable weather resistant polypropylene cover. The safety enclosure netting is made of UV protected polyethylene.
This heavy-duty trampoline has an adjustable safety enclosure that can be extended up to 12 feet for added protection from falls. It has soft foam pads on the inside of the enclosure to prevent injuries during falls, as well as 6 strong springs that provide firm support. The springs are covered with rust resistant powder coating for added durability and corrosion resistance.
This product comes with a one year limited warranty for your peace of mind, so you know it's built to last and will give you years of fun family time.
Features and Specification
Dimension– The lovely round mini trampoline measures eight (8) feet in diameter and is 6.5 feet high. Its jumping surface is only 21-inch high from the ground.
Capacity– This trampoline can cater to at most two kids for optimum bouncing experience with a maximum weight capacity of 175 lbs.
Age of kid using– It is recommended for kids age six and above.
Color– You can get this mini trampoline in two colors- green and blue.
Pros
Safe
To maximize the fun of children bouncing on this mini trampoline, it is built with an enclosure net. This effectively prevents your child from falling off the trampoline or tipping over. To ensure safety, the enclosure frame that houses the net is attached to each leg of the trampoline through T-bracket technology.
At the same time, the enclosure net is attached directly to the jumping surface through its "button hole" feature, so there are no gaps in between. Both the frame and springs have UV-protected and vinyl-coated mat covers. Smaller children can also use it, as the jumping surface is only 21 inches above the ground.
Durable
The longevity of a thing or toy starts with its foundation. Good thing that this 8-foot trampoline is built with heavy-duty galvanized steel that makes it weather resistant so you can be comfortable putting it up outdoors. Because it is basically made of steel, this trampoline is sturdy. Maintaining superior bounds through time are its rust-resistant springs.
Easy to Assemble
Just because this trampoline is 8-foot big does not mean it will take you days before your kids can enjoy the same. You caneasily put it together in just a matter of minutes.
Cons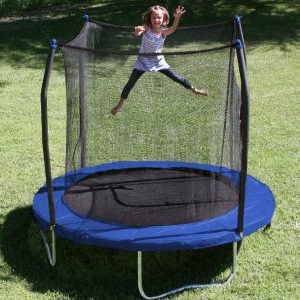 This trampoline may be relatively smaller than other outdoor trampolines of its kind and may fit well in the garage.
The problem, however, goes for those who do not have a garage and have very limited space inside the house especially when winter or rainy season comes.
Second thing, even though it is easy to put up, users noticed that the instruction for the assembly of this mini trampoline was vague. You can still browse the internet for articles or videos on how to assemble the same.
FAQs
Can 2 children fit on 8ft trampoline?
Yes, 2 children can fit on an 8ft trampoline. However the size of the trampoline can make a difference to how much room there is for them. An 8ft trampoline would be better than a 6ft trampoline as there would be more room for 2 children to bounce at the same time. Make sure they are bouncing away from each other though!
What is the weight limit for this Skywalker Trampoline?
The weight capacity of the trampoline is one of the most important factors in determining which model you should get. The recommended weight capacity of the Skywalker 8-foot trampoline is 175 pounds. In reality, it should be able to hold 220 pounds, but nothing more than that.
Are Skywalker trampolines good for adults?
It depends on what you're looking for. Because they are a little bit pricier as compared to other brands, people might think that they are better quality and have better design. Do not make any conclusion about a product just because it is expensive. You should always do your research and find out if the brand is really that good.
Trying to find the best trampoline for adults can be difficult because there are so many options available on the market today. However, some brands have been able to stand out among their competitors with their superior quality products and are worth investing in.
Skywalker has been one of the top brands in the industry for quite some time now. They have earned their reputation by making durable and high quality products that have proven to be very effective when it comes to safety and ease of use. Their most popular models include the Skywalker 15-Feet Round Trampoline, Skywalker 12-Feet Round Trampoline with Enclosure, and Skywalker 14-Feet Round Trampoline with Enclosure. All three models have great features that will surely help you get your exercise routine going without worrying about anything else.
Conclusion
If you are looking for a superb indoor or outdoor trampoline that assures fun and safety, then you can always count on this Skywalker 8-foot Round Trampoline with Safety Enclosure Combo. Plus, it is durable and can withstand any weather.
Skywalker 8-feet Round Trampoline
Product Description: The Skywalker 8-foot round trampoline is designed for children ages 6 and up. It is made of heavy-duty vinyl, galvanized springs and a sturdy frame. The weather-resistant jumping mat allows your child to jump to their heart's content even in unpredictable weather.
Quality

Performance

Affordability

Fitness

Durabilty
Summary
The Skywalker 8-foot round trampoline is designed for children ages 6 and up. It is made of heavy-duty vinyl, galvanized springs and a sturdy frame. The weather-resistant jumping mat allows your child to jump to their heart's content even in unpredictable weather.