If you're looking for an 8-foot trampoline, you've come to the right place. This article will review the 8 best trampolines in 2021
With the best 8-foot trampoline, even a modest backyard is enough for your children to have fun.
Due to its size, an 8-foot trampoline will not need a large open space to enjoy. You still need about two feet of clear space around the trampoline, so you still need about 14 feet of open space to have one. However, this does not require much, so it can definitely match many regular families.
Owning 8-foot leisure equipment of this sort isn't so different from what bigger units can offer. Despite its smaller size, you can be guaranteed that it will be able to provide hours of fun.
The only difference is the need to observe stricter rules on its use is more pressing. This will ensure safety and prevent serious injuries.
The most important thing to do is to be firm in not letting two jumpers use these trampolines at the same time. While this has been a general safety recommendation by the CPSC, not every household follows it if they have a huge trampoline. You can't be generous like this for a small unit.
Combined with the best 8-foot trampoline, you can be able to make the most out of this equipment without having to worry about the jumper's safety.
So how do you find the right product for your home?
Below is a quick guide to help you out.
How to Set Up an 8 Foot Trampoline
Learning how to set up a trampoline is also necessary if you intend to own one. For some people, it can be a deal breaker. As this chore can be too much for some folks, it can be crucial for interested buyers to get to know the process better.
So how do you set up an 8-foot trampoline?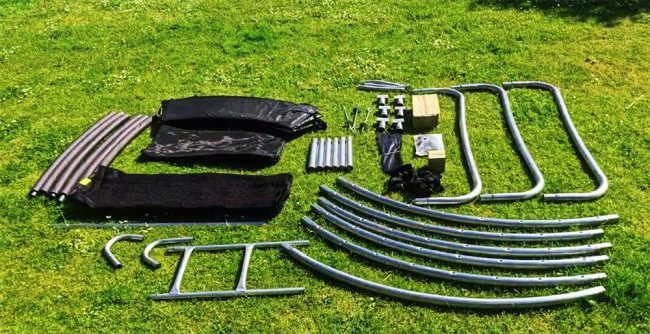 Here are the steps:
1. Look For the Right Spot for Your Equipment on Your Property
The first important step in installing a trampoline in your home is to find the perfect spot for it. To ensure safety, it should be a flat and clear area that's away from other structures or possible obstructions.
You shouldn't place it near a wall, fence, or any other structure. You also can't place it under a washing line or even a covered area. It's also not recommended to place it on a concrete surface.
As mentioned above, it's best to have at least 2 feet of clear space around the trampoline. This can help minimize injuries incurred from falling on solid objects.
2. Follow the Included Instruction Manual Closely
Once you find a good spot for your trampoline in your backyard, the next thing you should pay close attention to is the actual assembly of your equipment. You have to be careful in this as a small mistake can cause an injury.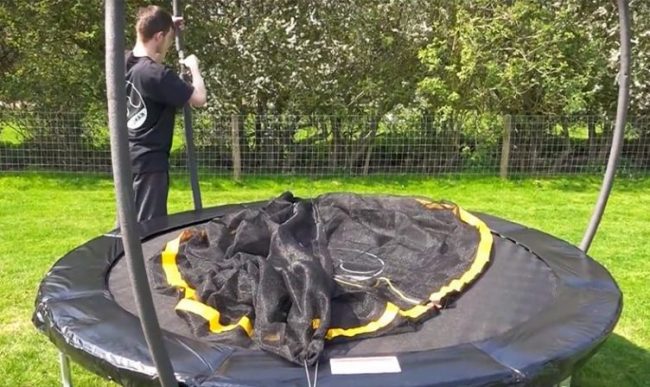 With the intensity of the activities done on trampolines, it's crucial that it's set up to handle them properly. Make sure to follow the assembly instructions properly. Do not try to take shortcuts as it's imperative that these items be put together without a hitch.
3. Don't Forget to Anchor the Trampoline to the Ground
Don't make the same mistake of not anchoring your trampoline to the ground. That can result in it being blown away by strong winds or an accident. Preventing the loss of your trampoline or getting a loved one injured is well worth the effort of securing your unit to the ground.
Best 8 Foot Trampolines
If you don't mind the steps involved in the setup process of this equipment, then the next thing to interest you would be your options. Finding the best 8 foot trampoline can be a challenge if you don't know where to start. So to help you out, here are 8 good options that can give you an idea of what to expect from a quality unit:
One of the most popular leisure equipment brands is the Skywalker 8 Foot Trampolines Jump N' Dunk Trampoline. This item is a common pick for the best 8 foot trampoline options out there not just because of its friendly price tag but also for its extras.
The brand in itself is a top choice for a lot of practical homeowners who want a high-quality product without a hefty price tag. This makes it a great option for 8-foot trampolines as most homes grow out of them after a couple of years. With the friendly price, you won't have to feel bad about replacing it.
What makes it an even more attractive option is its quality construction. Its heavy gauge steel frame promises sturdiness. Combined with a premium jump mat and a durable spring cover, it can already guarantee that it will be able to withstand regular use. It can handle up to 200 lbs, so it can already suit a lot of users' requirements.
As a plus, it also comes with a set of dependable safety features and extra accessories. Aside from the stay-put enclosure net feature, it also comes with a soft play basketball hoop and ball. These add-ons provide more ways to have a blast with this equipment.
Features:
200-lb weight limit
Reinforced t-sockets for upper net enclosure frame stabilization
Stay-put enclosure net
Heavy-gauge, galvanized, rust-resistant steel frame
Soft play basketball hoop and ball included
The 8 feet trampoline which we are highlighting now consists of 6 frame joints. Along with that, the trampoline has 48 high-tension steel springs as well. The strength and the frame joints ensure that the trampoline can handle a lot of weight. That is why the bounce is excellent.
Also, the maximum weight which it can handle is 375 lbs. That is why; it is suitable for adults as well as kids.
The heavy-duty steel frame means that you won't have to worry about wear and tear. During the construction process, it received a three-layer rustproof coating. Apart from that, it can handle UV rays as well. That is possible because of the same coating.
The trampoline consists of an enclosed net. The advantage of an enclosed net is that it is incredibly safe to use. That is why kids can easily use it.
With the help of a detailed instruction video, assembling it is not going to be an issue.
With so many features on offer, you cannot go wrong with this 8 feet trampoline.
Pros
Excellent weight handling capacity
Easy to assemble
Heavy-duty steel frame
Consists of 48 springs
Extremely safe to use
The 8-feet bouncer, which we are highlighting now, measures 96" x 96" x 94.1". It is suitable for individuals of all ages.
The waterproof construction ensures that you will be able to keep it outdoors easily. It can handle humidity quite easily.
Wondering about the weight limit?
It offers a weight carrying capacity of 264 lbs. Not only that, it has superior bounce, which is another reason why you should go for it.
When you look at the jumping mat, it consists of reinforced polyester. The frame consists of galvanized metal. Considering all these factors, it can certainly last for years together.
When you look at all these features, it is easy to understand why it is one of the best 8-foot trampolines.
Pros
Waterproof construction
Long-lasting design
Suitable for all
High weight carrying capacity
The highlight of this trampoline is the 3 U-shaped legs that it comes along with. These can easily support the 8 feet trampoline. They provide excellent stability as well.
When you look at the enclosure, it consists of a security net. Apart from that, the steel Tubes make it durable as well. The mat is such that it does not offer you any gap in between. That is why it is safe to use.
In terms of accessories, you get the safety enclosure, jumping mat, and steel frame. All the hardware which you need to assemble comes along with it.
The weight limit is 200 lbs. Also, the PP mat ensures that the wear and tear of the mat will not take place either.
The excellent stability which this trampoline has on offer helps it stand out.
Pros
Extremely stable
Includes accessories
High weight carrying capacity
Heavy-duty construction
Cons
Packaging needs improvement
The highlight of this 8-foot trampoline is the safety which it provides. It consists of galvanized steel construction. The steel is rust-resistant as well. The 3 W-shaped legs provide proper stability.
You get a basketball hoop as well. That is why, if you want to play sports on the trampoline, you can certainly do so.
There is a jumping mat on offer. With the help of 42 galvanized springs, the bounce which you get is excellent. The jumping mat can easily handle a significant weight, which means that wear and tear are not going to be a problem.
The weight carrying capacity is 220 lbs.
All the hardware and the tools which you will need to install it comes along with it. That is why you won't have to struggle with the installation either.
The PVC frame padding, which it comes along with, further increases its lifespan.
Thus, if you're looking for a versatile 8-foot trampoline, you can consider this one.
Pros
220 lbs weight carrying capacity
Numerous galvanized springs on offer
Dustproof
Extremely safe to use
Cons
Stitching quality can be better
Are you searching for an 8-foot trampoline with a high weight carrying capacity?
If so, this one with a weight carrying capacity of 375 lbs will not disappoint you.
A unique feature of this trampoline is that it comes with six wind stakes. That is why, even in windy conditions, you will be able to use it easily.
The galvanized steel construction means that you won't have to worry about rust. Also, the unique steel joints of the W-shaped legs ensure that the stability is excellent.
Of course, you will keep the 8-foot trampoline outdoors. However, from time to time, it will rain as well. To protect the trampoline from the rain, you will get a rain cover as well. That way, you won't have to worry about protection from any weather.
With so many features, you cannot go wrong with this trampoline.
Pros
High weight carrying capacity
Includes wind stakes
Comes with a rain cover
Sturdy construction
Cons
Installation takes more time
The weight carrying capacity of 425 lbs makes this 8 foot trampoline a good choice. The polyethylene material increases the life span. The polyethylene material ensures that it can handle UV rays as well.
You get pole sleeves which consist of 10 mm form. That is why, even when the kids are using the trampoline, there will be no risk.
Heavy-duty steel construction means that you can use it for years together. The steel comes with an anti-dust coating as well. That is why; you won't have to worry about corrosion either.
The assembling is quite easy. You get the rain cover, antiskid ladder, and the U-shaped stakes. That is why everything which you need for assembling the trampoline is available.
You even get accessories like two T-hooks and gloves. That is why two adults can assemble it in no time.
With the numerous steel springs on offer, the bounce which you get is excellent.
Whichever way you look at it, this 8-foot trampoline certainly does not disappoint.
Pros
Easy to assemble
High weight carrying capacity
Includes accessories
Can handle any weather
Because of their small size, 8-foot trampolines are best suited for young kids. This explains the Skywalker 8 Foot Round Trampoline with Safety Enclosure Combo's overall design. From its low ground clearance to its gap-free enclosure net, it promises to be a safe option for your little one.
One of the most notable things about this product is that its frame sits low to the ground. This makes it safer in case of a fall as it lessens the travel distance from the jump mat to the ground. This can lessen the severity of the fall, making it safer in general.
The design of the enclosure is also a notable detail. For one, it's meant to be attached to the jump mat so it can minimize the odds of the jumper landing on the springs. Two, this can also help protect your kids from getting stuck in the space between the spring and the jump mat. The net can provide additional coverage to minimize such instances.
Topped off with a sturdy frame and high-quality materials, this product can be a solid choice for your kid's first big-kid trampoline.
Features:
175-lb weight capacity
Low height
Safety enclosure included
Gap-free enclosure design
Buying Guide – How to Choose the Best 8 Foot Trampoline 
After getting to know some of the best options, how do you choose from them? Here are some reliable tips that can help you take a pick:
1. Never skimp on quality
Like with just about any kind of purchase, you also have to be very particular about the quality of the trampoline you wish to get. As this equipment will need to take on a lot of weight and force while in use, you should stay away from flimsy products. Those will only put your safety at risk, so they should be avoided at all costs.
How would you know if a product is of good quality?
It should look and feel sturdy, for starters. You can tell whether a trampoline can be able to hold a lot of weight and impact if it uses heavy gauge steel for its frame and springs. The jumping mat material should also be of high quality. This way, you can be sure that it won't buckle under the weight of its user.
2. Go for a unit with a high weight capacity
While most 8-foot trampolines won't have a very generous weight limit, there are those with higher capacities than others. They can be deemed as safer options because of this.
Despite a high weight capacity, though, it's still important to stick with the one-jumper-at-a-time rule. Some folks may be tempted to let little kids jump together since the weight limit is high. Don't make this mistake as a lot of trampoline injuries are caused by having another jumper sharing the space.
3. Look for reliable safety features
Because safety is one of the most pressing concerns when it comes to owning a trampoline, you should definitely look at how the product can prevent serious accidents and injuries. Aside from its high quality that can guarantee sturdiness, it should also have other features that address the common issues experienced by users.
The pieces that come with a safety enclosure should have a sturdy frame so they can effectively prevent jumpers from falling off. The net itself should have small gaps so fingers and limbs won't get caught in them.
A padded spring cover is also essential, especially if the enclosure net is designed to go around the outer perimeter of the frame. This way, jumpers won't hurt themselves if they land on the springs.
4. Consider your budget
It's a fact that trampolines don't come cheap. The 8-foot varieties are often more affordable than their bigger counterparts, though, so this shouldn't be too worrisome. However, as you often get what you pay for when it comes to this outdoor equipment, you have to be careful in taking a pick. It's still best to get the best item within your budget rather than opting for the cheapest option or overshooting your budget.
5. Some add-ons are not always worth having, so consider their functionality closely.
In line with your budget, it should also be noted that not every extra will prove to be useful and worth the money for you. While they might be packaged as a "free addition" to your purchase, that's not always the case. Having them included in your purchase could also mean that the manufacturer skimped on some of the essentials to afford the extra.
This is why it can sometimes be better off with a basic product. Besides, there's also a good chance that the extra is not an essential accessory. So if you don't think that you'll be able to use all of the additional frills of a certain product, you might be better off with something else.
Final Verdict
Despite the limited size, the best 8-foot trampoline can still be the perfect addition to your backyard. Not only will it give your kids nice equipment to play in but it can also help you get a good workout. It's just a matter of choosing the right product for you.