Trampolines can be a fun addition to any backyard, but what's more fun than a plain old trampoline?
A trampoline with a basketball hoop!
Adding a trampoline basketball hoop to your ordinary backyard trampoline will keep your kids bouncing with glee for hours.
A trampoline basketball hoop is a basketball hoop that attaches to the top of any normal trampoline. Kids can then play basketball while they bounce, dunking and shooting with some extra boost from the trampoline.
What is a Trampoline Basketball Hoop?
It is exactly that, a basketball hoop that you can attach to a pole onto a trampoline. Before these types of products became available, people would hook up a regular basketball hoop onto a pole and place it on a trampoline.
This is fraught with danger as the poles were often not properly secured and would come off with repeated use.
Nowadays there's no need to subject yourself to this kind of risk as these hoops have been constructed specifically for long term use. Now you can dunk all you want without worrying about damaging the basketball hoop.
Trampoline with Basketball Hoop
Today's trampoline basketball design comes with several features to suit the need of different players. They're available in a wide range of colors and styles, and the hoop design varies as well.
Some of these hoops have a mesh-like structure while others resemble those used in traditional basketball games. All you need to do is go online and you'll see a diverse array of options.
The best trampoline hoops have a secure fit and come withsafety net protection so you can play ball with confidence and not worry about landing hard and hurting yourself.
These hoops also come with all the components you need to play with right away such as the cushioned hoop, the backboard, the ball and the required hardware to set everything up.
Another feature of these hoops that should be pointed out is they're built to last. As many customer reviews have also pointed out, these hoops are easy to set up as well and affordable too.
Things to Consider
Before deciding to buy a basketball hoop for your trampoline, there are a couple of important things you'll want to consider.
1. Stable and Secure
Hoops that aren't stable will fall off, presenting a safety hazard. Thus, it is important to find a basketball hoop that will fit securely on your trampoline.
2. Decent Size
Some trampoline hoops are significantly smaller than standard basketball hoops and this can make them less fun. A decent sized backboard will help to keep your kids entertained by keeping the ball in the trampoline.
3. Is It Compatible with Your Trampoline?
Most trampoline hoops will attach easily to any trampoline enclosure pole. But some may have their own instructions, and you'll want to make sure it will work with the style of trampoline you own.
Best Trampoline Basketball Hoop
If you have never purchased a basketball hoop for use with a trampoline before, it's imperative that you do some research first so you don't end up making a mistake, but the following should help you get started on the right track.
Without further ado, here they are:
1.
JumpTastic Trampoline Basketball Hoop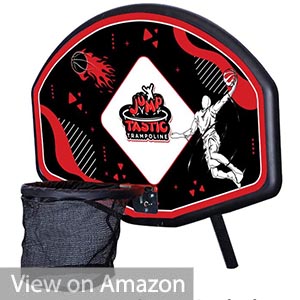 The trampoline basketball hoop, which we are speaking about now, is universal in size.
The universal clamp means that attaching it to the trampoline is easy.
You can attach it to the straight pole, curved pole, or any other type of pole.
You can choose between 2 different color options.
The adjustable angle of the basketball board means that you can customize the position according to your requirement. That makes it easy to use and fun to play.
The flexible board design and the strong board means that wear and tear isn't an issue. The basketball board itself consists of PP material.
Along with the basketball hoop, you get the rubber basketball, wrench as well as pump. That is why the installation isn't an issue.
This trampoline basketball hoop is the complete package.
Pros
Universal clamp
Available in 2 color options
Includes accessories
Angle adjustable design
Has some elasticity
Long lifespan
Cons
Doesn't work with fiberglass poles
2.
PAPAJET Trampoline Basketball Hoop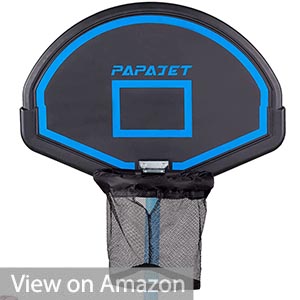 If you have a straight enclosure pole, this basketball hoop is undoubtedly one of the best options for you.
The high-quality back panel means that wear and tear isn't an issue. It will last for years together.
It comes with a ladder. The ladder consists of galvanized steel. The UV-resistant construction means that wear and tear of the ladder will not take place. The weight handling capacity is 250 LBS.
Whether you're looking at the ladder or the basketball hoop, both of them are equally easy to install. The brackets ensure that a single person can install it without any worry.
The basketball hoop is not only durable but also flexible. The flexibility increases the life span. Due to the same, the chances of injury is almost nil.
The hoop in itself consists of thick foam padding. Consequently, it is safe for children.
The easy to assemble design and the excellent durability make this basketball hoop a great option.
Pros
Includes a ladder
Easy to assemble
Sturdy construction
Foam padded basketball hoop
Works great with straight poles
Cons
Works only with straight poles
3.
JumpKing Trampoline Basketball Hoop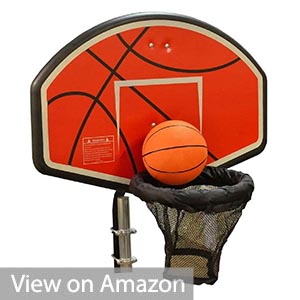 The hoop we are speaking about now has a universal design. It means that it will fit into any pole.
It comes along with the inflatable basketball, so you won't have to buy it separately.
The sturdy back panel means that it is suitable for rugged play.
The reason why it is universal is because of the U-shaped mounting bracket. You get all the installation hardware.
The padded ring means that the chances of an injury are almost nil. The mesh basket further makes it safe.
If you're looking for a hoop that is extremely safe and sturdy, this is the best trampoline basketball hoop you can go with.
Pros
Includes a basketball
Solid back panel
U-shaped mounting bracket on offer
Padded rim
Cons
Packaging needs improvement
4.
Jump Slammer, Trampoline Basketball Hoop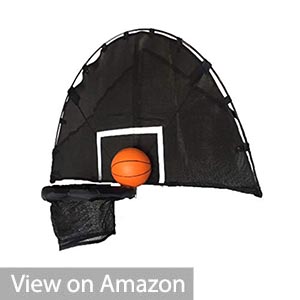 The Jump Slammer takes trampoline basketball to the next level. The hoop is well-designed and durable, perfect for those vicious throw downs or smooth jump shots.
What makes it superior to most other products like this is the universal fit, meaning it is compatible with most if not all types of curved and straight pole enclosure designs.
One of the most common criticisms with most trampoline hoops is you cannot adjust them, but the Jump Slammer allows you to do just that. For that feature alone, this hoop is worth a try.
5.
SKLZ Pro Mini Basketball Hoop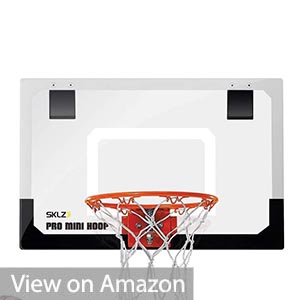 The SKLZ basketball hoop is perfect for use with a trampoline and for some indoor hoop action as well.
While it's a mini hoop, the SKLZ has the look and feel of a real basketball, and it's also got a spring-action metal rim that's pro grade.
The 3 ply nylon, 8 loop net is well-designed and doesn't take long to assemble either.
The SKLZ hoop is not the flashiest one in the market but it does the job.
If you're after some affordable and functional hoops that provide hours of fun, look no further.
The Proper Jump N Jam comes with a 10 Inch Safety-Flex Rim for hours of fun play, and the robustly built backboard won't give way even when you're playing and slamming hard.
While these hoops are meant for relaxing, you can use this to improve your physical condition and hone your shooting skills as well.
The unit comes with the pump and ball, and it's been developed so there's full compatibility with Propel and Kinetic trampolines.
Unlike other hoops for trampolines, the Jump N Jam instructions are easy to follow so you will be shooting balls in no time.
Best Trampolines With Basketball Hoop
However much you love jumping and bouncing around aimlessly, it does get a tad bit boring after a while, especially if you have hyperactive kids who are always on to everything. Trampolines with basketball hoops are a great idea. They add a sort of direction to that frenzied jumping and help hone your kids' hoop and dunk skills.
1.
Merax Trampoline with Safety Enclosure Net
With 2 different color options, you have options with this trampoline. Besides that, the trampoline comes with a 6 feet high safety enclosure.
The galvanized steel construction means that you can easily place it outdoors without worrying about corrosion. The 6W shaped legs provide excellent stability.
The 5 foam-padded poles make it safe to play in. There is one extra thick pole that can increase the stability of the trampoline further. The UV-proof design certainly makes it durable.
With the help of a built-in basketball hoop, it is easy for you to enjoy basketball.
The weight carrying capacity of 375 LBS makes it better than many other options.
Thus, if you're looking for a stable trampoline that allows you to enjoy a basketball safely, you can consider this one.
Pros
6 feet high safety enclosure
Available in 2 different color options
Foam padded poles
Inbuilt basketball hoop
Rustproof design
High weight carrying capacity
2.
AMGYM Trampoline Safety Enclosure Net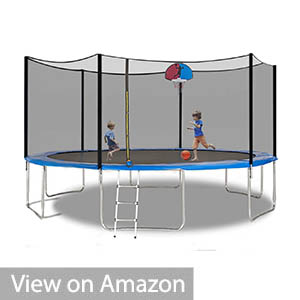 The advantage of this trampoline is that it is available in different size options like the 10 feet variant, 14 feet variant, and 15 feet variant. All the sizes are available, along with the basketball hoop.
When you look at the construction, it consists of steel, PE cloth, and EPE foam. That is why it is sturdy.
The U-shaped legs ensure that you won't have to worry about the stability of the trampoline. Along with that, it consists of 60 galvanized springs. The UV-resistant high-quality mat means that wear and tear is almost nil.
The weight carrying capacity is 440 LBS which is another reason to go for it.
With the help of a ladder, it is easy to get in and out of the trampoline.
The enclosure is such that it minimizes injuries and makes the trampoline entirely safe.
The trampoline is shockproof and also protects you from a fall. That is why you can use it reliably.
It is quick to assemble when you have some company.
All these features combined make this trampoline a good choice.
Pros
Available in different sizes
High weight carrying capacity
Extremely stable
Easy to get in and out
Easy to assemble
Shockproof
3.
Kids Basketball Trampoline with Safety Enclosure Net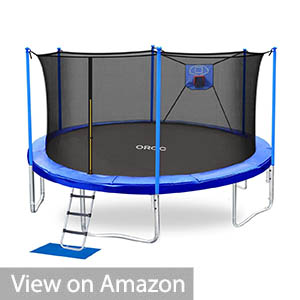 With four size options available, you can easily buy this trampoline according to the amount of space you have.
All the variants come with a basketball hoop. That is why enjoying basketball on the trampoline is undoubtedly possible.
The 10 feet variant has a weight carrying capacity of 425 LBS. All other variants have a capacity of 450 LBS.
The PE and PVC foam pad ensures that it is incredibly safe to use. Not only that, the mat consists of polypropylene material which is UV resistant. The galvanized springs provide an excellent bounce.
The 6 feet high enclosure makes it safe to use. Also, there are pole sleeves on offer to avoid any injury.
You get an antiskid ladder which makes it easy to move in and out. There is also a rain cover when you want to store it. The detailed instruction manual ensures that assembling it is easy. You require two adults to assemble it.
These features certainly make it a good trampoline to buy.
Pros
Available in various sizes
Easy to assemble
Excellent safety features
UV resistant design
Comes with accessories
4.
Skywalker 15-Feet Jump N' Dunk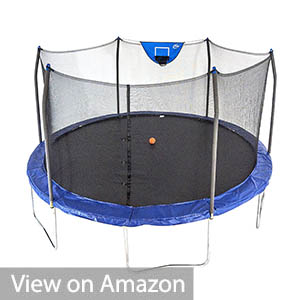 This is one of thebest trampoline setups when it comes to structural stability. It uses t-bracket construction that ensures stability at every joint.
There are no gaps, which can be tripped into, as their patented system attaches the jump mat and the net at every spring.
The net itself is very durable, made of polyethylene which also gives UV protection so it lasts long. Both the net and the mat are tightly woven to give support and the mat is made from polypropylene, which provides excellent UV protection.
The basketball hoop and ball are built with cushy materials to avoid any injuries to your kids. This hoop is actually a very recent addition to the set, but it certainly does make the experience a lot more enjoyable.
All these products meet the safety standards set by ASTM and may even exceed them.
5.
Springfree Trampoline – 13ft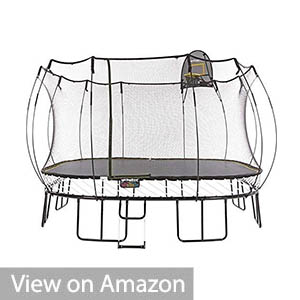 In this world of technology and gadgets, how can your trampolining remain gizmo free?
Tgoma is just the answer for that.
It brings digital gaming to the outdoors, so now you can be playing a video game and still be out as well.
This one has rightly been dubbed as a 'smart trampoline' to accompany your smartphones and smart TVs and smart whatnot. Tgoma interactive game system converts your regular old trampoline into a digital gaming system.
Above 10 games and apps are loaded into it. You can leave the trampoline out in all kinds of weather without any worries. The mat of this trampoline is designed Springfree and this enables it to absorb 30 times greater impact than the padding itself.
The model has a structural load capacity of 1100 pounds and a jumping weight capacity of 220 lbs. The total package will provide you with a S155 Springfree trampoline, a tgoma digital game system, a basketball hoop and a ladder.
The rods are made from composite fiberglass and the frame is of galvanized steel, along with polypropylene mats and nets which are resistant to UV radiation.
There are interactive and learning games for kids and pre-teens, Fitness apps for adults and other highly energetic games for everyone. This one offers everything- safety, technology and fun, all rolled into one.
Hoop Installation
Once you've decided on a hoop, you'll need to go about installing it. Most hoops will fit easily on the poles around the trampoline enclosure. Some hoops will have their own unique installation instructions.
While most basketball hoops for trampolines will simply hook onto the top of the enclosure pole, others will have a weighted base that attaches to the trampoline itself.
Above all it is important to ensure that you follow the instructions to install your hoop properly. Make sure you read these carefully and follow them. If you install your hoop incorrectly it can fall and injure someone or break.
All in all, a trampoline with a basketball hoop is a great addition to any family backyard setup. Kids can finally dunk baskets like their favorite basketball players, and parents can enjoy watching their kids stay entertained for hours.
If you ensure that you've picked a high-quality hoop and installed it correctly, a basketball hoop for your trampoline is a purchase you won't regret making.
Things To Keep In Mind Before Buying
Make yourself sure of the longevity of the model you are purchasing. Use customer reviews and suggestions in helping you pick a model that would serve you more.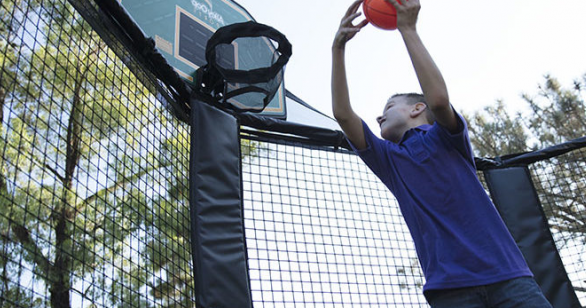 Safety is the most prominent feature. Don't be lured into buying cheap products that do not meet the safety standards set up by ATSM.
A trampoline with a basketball hoop attached sees even more activity than the regular ones. Make sure yours has the sturdy structure to take the strain.
If you already have a trampoline at home, you can look for basketball hoops that come separately as accessories. But if you are buying a new one, it is highly recommended that you get one with its own hoops, as trying to figure out which hoop is compatible with what kind of trampoline frame is a bit of a hassle that can be avoided easily.
Make sure that the trampoline has a high jumping weight capacity, as in the case of young adults, there might be more than one jumper on the trampoline.
Final Verdict
The trampoline basketball hoop has become a standard feature in most backyards today and why not, as it affords families the opportunity to play some ball like the pros. These hoops have also become less expensive than they used to be so there's no reason why you cannot get one.
As to what model to get, we recommend any of the three reviewed here: the SKLZ Pro, Jump Slammer and the Jump N Jam all have special features that set them apart from the others that you see on Amazon.
If you're after quality at a price that is still manageable, any of the three will do.