As we all know, the trampoline is one of the few pieces of entertainment equipment suitable for the whole family. It is also conducive to everyone's physical exercise, whether young and old, athletes or not.
It's a pleasure to own a trampoline. But it can be a challenge to choose a trampoline. There are many different styles, types and shapes of trampolines on the market. To help you buy the best trampoline, here's our comprehensive trampoline buying guide and some safety tips.
How to Choose the Best Outdoor Trampoline for Your Family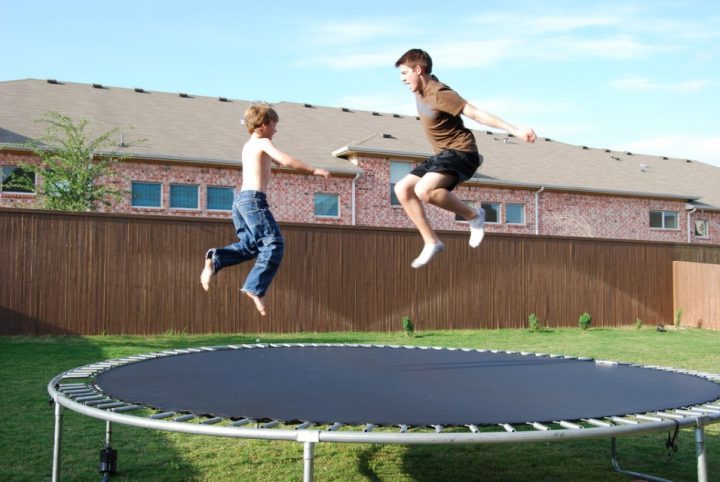 There are many trampolines in the market. It's easy to be overwhelmed when shopping. When you buy trampolines, your personal preferences, budget and the size of your backyard will all make a big difference.
These variables vary from buyer to buyer, but you need to carefully examine some general features before deciding on the final choice.
#1. Frame
Whether you choose a rectangular, oval or round trampoline, the most important feature is the frame. This provides the necessary stability to support the trampoline and the weight of the person using it.
Look for stainless steel or powder coated steel frames with smooth welding quality and no gaps or obstacles. You should absolutely reject any trampoline that shows any form of rust or corrosion.
#2. Legs
As part of the frame, you need to pay special attention to the structure and number of legs. These shall be made of durable materials with clean welds. You should have at least six legs on your trampoline.
Models with four legs are usually cheaper, but they do not have the level of stability that a six legged model has.
#3. Springs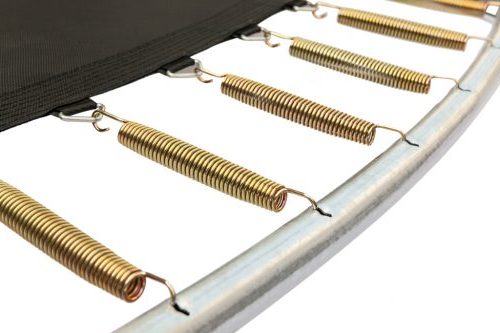 The bounce of the trampoline depends on the spring. The spring will also determine the weight capacity of the trampoline.
When it comes to springs, the balance needs to be maintained because if the springs are too weak, they will not be able to bear heavier weight, but if the springs are too strong, smaller children will not be able to bounce on the trampoline.
The spacing between springs varies from trampoline to trampoline, but usually the spacing between springs should be between 10 inches and 16 inches.
#4. User Weight
Pay very close attention to user weight as it will determine a trampoline's capacity. Be sure to consider that your child will grow up and become heavier.
Also remember that if the adults in your family want to participate in activities on your trampoline, the weight-bearing ability will also support the adults. Careless loading is a formula to destroy trampolines and cause many safety problems.
#5. Safety Equipment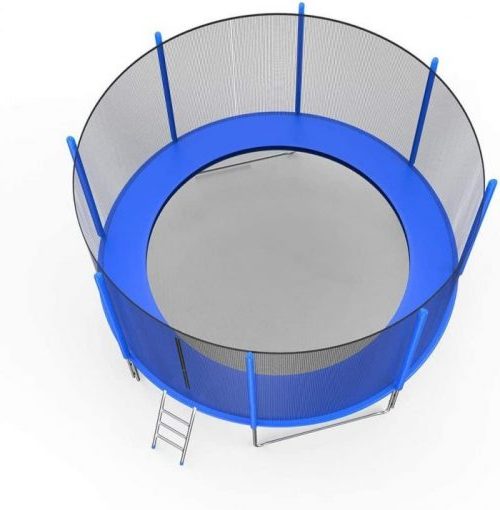 Although it is at the end of our feature list, safety should be your first consideration when it comes to buying and using trampolines. Installing safety equipment on your trampoline can make your trampoline experience interesting or increase medical costs.
Here are two safety features to keep in mind as you shop:
The pads on the trampoline are covered with springs and hard metal frames. They are made of thick foam and high quality materials to improve wear resistance and weather resistance. They are essential safety equipment for trampolines.
It's hard to find a trampoline without enclosures. There are good reasons for this. Although enclosures do not prevent all trampoline injuries, they help prevent some of the most serious injuries, which are usually associated with trampoline falls. These also need to be made of durable materials that can withstand deterioration caused by weather conditions and UV damage.
These are the two most common safety equipments on trampolines. The best way to prevent accidental injury on a trampoline is to follow a set of general safety rules for using a trampoline.
These are some general features and benefits of buying trampolines. The following reviews are a way to compare how these different functions are integrated into the design of many models on the market.
Top Rated Best Trampoline Reviews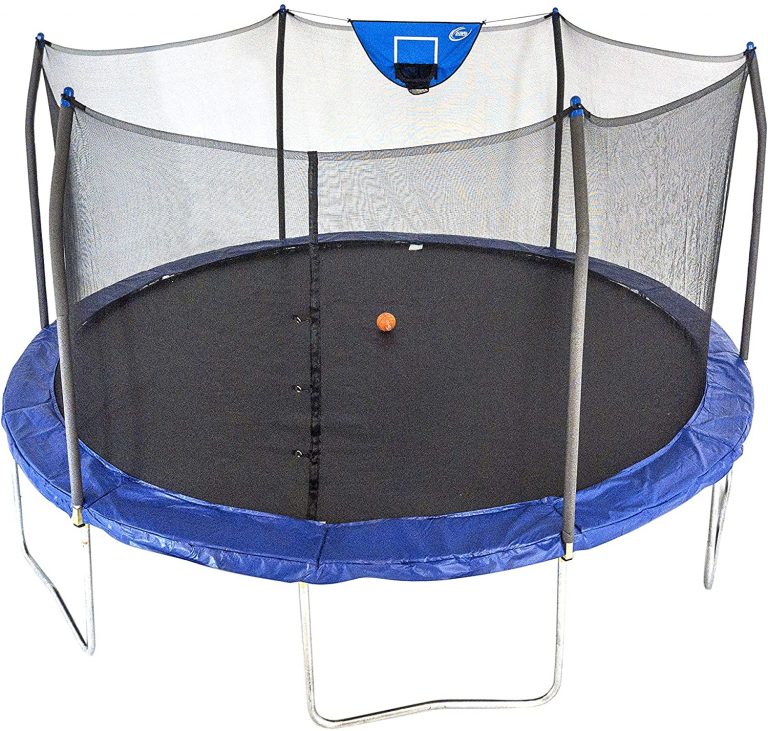 The first of our trampoline reviews is the Skywalker 15′ Round Trampoline and Enclosure.
This trampoline is very popular on Amazon.
In fact,Skywalker creates the best selling trampolines for Amazon. One of the biggest advantages of this trampoline is the fact that it provides all the features required of the best trampoline, but is also among the cheapest on the market.
The trampoline diameter is 15′, which is the largest trampoline, but extends to about 16′ with the poles. So if you intend on setting this up in your backyard with limited space, make sure to consider that.
The biggest selling point for this trampoline is that it is among the most affordable trampolines on the market. The Skywalker is probably the best trampoline in terms of cost-efficiency.
About Weight Capacity
The Skywalker trampoline also has a recommended weight of only 200 lbs.
It's important to note that the recommended weight limit doesn't mean your trampoline will collapse if it exceeds the weight!
One buyer mentioned having 3 people weight a total of 350 lbs without issue, and another buyer mentioned having 4 teens on at the same time. However, going over the weight limit consistently may affect yourtrampoline's lifespan. It's clear that the affordable cost of the Skywalker is due to the lower weight limit. Many trampoline reviews will fail to point this out.
Pros
The best trampoline in terms of affordability
Solid build quality
Very highly rated and reviewed on Amazon
Cons
Weakest warranty
Lowest recommended weight (200 lbs)
Another prominent company when it comes to trampolines, Ultega didn't fail to impress us here as well. This product can hold up to 200 pound jumpers with ease.
Ultega is fully aware that trampoline jumping is not just restricted to small children but also to adults and therefore they made it even stronger than before.
To add to the safety quotient, this product comes with a safety net. What is even more attractive about the jumper is that it has a better and higher spring count. This feature will make the heart of any jumper jump even higher with joy.
The stability of the trampoline is taken care of by the L shaped legs of the product. To make the whole experience even safer, you will find that Ultega Jumper Trampolines have 8 padded poles in the netted enclosure.
Main Feature
88 springs are used to attach the frame to the mat.
The legs of the trampolines are L shaped which makes sure that the product doesn't trip over.
The trampoline has a galvanized steel frame which makes the product stronger.
Even if you don't have a lot of space in your backyard, you can still get in on the fun with the Springfree Trampoline 8x11ft Medium Oval Trampoline.
This oval is the perfect combination of the greater springiness of a rectangular trampoline combined with the space saving properties of the model.
This model uses a non-spring technology to avoid the accidents associated with pinching and falling between the springs.
Its jumping pad and net are made of UV protected materials and it is set on a heavy-duty, powder coated steel frame with six pairs of legs for greater support.
Pros
It has a durable design that stays away from the use of springs for better safety and more bounce.
Allows for a larger jump area without taking up as much space in your backyard.
It utilizes UV resistant pad and safety net materials.
The corrosion free frame is powder coated and includes sex pairs of legs for better support.
Cons
This is an expensive trampoline.
It is only rated for up to 250 pounds, which is a little light given the price of this unit.
A Great Choice If…
You have a long, narrow yard and need a space-saving, spring-free trampoline, but don't mind paying a higher price. Those on a budget might not be pleased with the lighter weight capacity they are paying for with this unit.
Made in Germany, the Zupapa trampoline is rigorously tested and certified safe by TUV. This trampoline comes completely customizable with 12, 14 and 15 foot options available.
It uses a heavy-duty, but lighter weight galvanized steel frame set on six pairs of legs. It utilizes a UV resistant, "no-gaps" jumping pad, which extends over the springs to prevent accidents related to falling through or being pinched by the springs.
Its enclosure net is also UV resistant as are the 10 mm thick pads over the springs. This trampoline is rated for weights up to 375-425 pounds.
Pros
This trampoline has a lighter weight heavy-duty galvanized steel frame on 6 pairs of legs to provide plenty of strength and corrosion resistance.
It utilizes a "no gaps" jumping pad to prevent injuries associated with the springs.
All jumping surfaces and safety materials are UV resistant.
This trampoline is TUV certified as being safe and of high quality.
The weight capacity of this trampoline is 375 pounds.
You get a lot of trampolines for less money.
Cons
This trampoline can be difficult to assemble.
The safety nets on this trampoline seem to be a little bit too thin.
The safety poles are a little lighter weight than some users prefer.
All Size Product Comparison Table
| | | | | | |
| --- | --- | --- | --- | --- | --- |
| | | | | | |
| | | | | | |
| | | | | | |
| | | | | | |
| | | | | | |
| | | | | | |
| | | | | | |
| | | | | | |
| | | | | | |
| | | | | | |
| | | | | | |
A Great Choice If…
You want a safe, high-quality trampoline that does not cost you a lot of money. Putting this trampoline together can be something of a challenge, so keep that in mind when you consider your purchase.
Skywalker brings to you yet another product from the top trampoline list for 2022. It comes with a very stylish design that is very user friendly. Design is not the only sophisticated aspect of this product.
Let us talk about the safety of the product which is one of the most useful criteria for considering a trampoline. It comes with a safety enclosure that is attached to the jump mat with the help of T sockets which ensures the safety of the product.
The weather resistance is also another aspect to be considered here. The materials are strong and durable.
And the galvanized steel frame is responsible for this. This allows you to take the trampoline outside and helps you in outdoor advantage.
The UV resistant materials are very useful in making this product a durable one.
The button hole feature and the V ring are useful aspects of this.
This is a rectangular trampoline that provides you with very high lifts.
The dimensions of the trampoline are 22 x 7 x 53 inches.
The springs on the jump mats are safe and durable.
This is yet another really amazing and stylish looking trampoline. This is claimed to be the world's safest trampoline.
It is perfectly safe for all jumpers. Whether you are an amateur, trying your hand at trampoline jumping or you are a pro, having done this for years, this product is perfect for you.
The steel frames are tough and durable. The galvanized steel is the root cause of this strength. It allows you to use this product for a long time at a stretch.
It comes with a structural load capacity of 1100 pounds. This trampoline is also resistant to weather conditions and you have the liberty to keep it outside for days and nothing will happen to it.
Main Feature
This is designed for soft bounce sessions. This is ideal for large sized yards.
There are no risky springs present in the trampoline. Plus, there is a safety enclosure. This makes this durable product a safe one.
This Springfree 11 feet trampoline is weather resistant.
Those who want an indoor/outdoor option might want to consider the Fashionsport OUTFITTERS Trampoline. This is a smaller, 5 foot diameter trampoline with a safety closure.
It comes on a 16 gauge steel frame with three pairs of legs. It is a little bit larger than a typical mini-tramp, so it can be used by adults for a workout or by younger kids as a fully enclosed trampoline for play.
Its jumping pad and safety equipment are all UV damage resistant and its weight capacity is rated up to 220 pounds.
Pros
This is a small lightweight trampoline that can be moved indoors or outdoors as needed.
It doesn't take up a lot of room, so smaller backyards still have a trampoline.
It is easy to set up.
The weight capacity is enough to accommodate children as well as most adults.
All safety equipment is UV damage resistant.
This is an extremely affordable option for exercise or fun.
Cons
The use of this trampoline is pretty limited.
It is lightweight and will need to be tied down whenever it is left outdoors.
A Great Choice If…
You want the combination of a mini-tramp for your workout routine, but have small children that might enjoy a small and safe trampoline for not a lot of money. If you have larger children or adults that want to play on a trampoline, this one is not going to cut it.
In the trampoline industry, the SKYTRIC Trampoline is known for using heavy materials and non-corrosive finishes in its construction design, but still making them affordable options.
You get a heavy-duty, powder-coated, galvanized steel frame on six pairs of legs for durability.
It also comes with a UV damage resistant net, jumping matt and pads so that your trampoline will withstand the weather.
And it comes with 72 springs on its 11 foot diameter frame for added bounce and strength. It is easy to assemble and is rated at 330 pounds.
Pros
Its heavy-duty frame and spring design allow the whole family to get involved.
Bigger springs and more of them provide more bounce.
All safety materials are UV and weather resistant.
Jump matt is UV and weather resistant.
Easy to install.
Weight capacity is 330 pounds.
Great value for not a lot of money.
Cons
You might have to use strong glue to keep joints together.
The zipper opening leaves a little something to be desired in durability.
Springs can come loose with heavier jumpers.
A Great Choice If…
You want a lot of durability and strength for not a lot of money and you plan on the whole family getting involved. You might have to do more maintenance to keep this trampoline safe.
If you want to be assured of safety when your kids are jumping, you will be happy to know that the SONGMICS Outdoor Trampoline for Kids is both TUV and ASTM certified for quality and safety.
Galvanized, powder-coated steel tubing is used in the construction of the frame and legs of this trampoline.
It utilizes a full enclosure that is weather and UV resistant around its UV resistant jumping matt.
More and heavier springs are used in its construction to increase weight capacity as well as bounce. It also includes easy-to-follow assembly instructions and a basketball hoop on its 12, 14 and 15 foot models.
Pros
This trampoline is constructed of durable, powder-coated galvanized steel tubing on 6 pairs of legs.
All safety equipment is weather and UV resistant.
Both TUV and ASTM have certified the safety and quality of this trampoline.
The jump mat is UV damage resistant and attached to heavier springs.
It comes in three sizes and includes a basketball hoop.
This unit is competitively priced.
Cons
The 250 pound weight capacity is a little bit limited for many adults.
Many users have complained that the assembly instruction is very hard to follow.
A Great Choice If…
You are looking for a safe trampoline for your kids at a competitive price. The weight capacity might limit adult use in many cases.
You get the most bounce and durability possible with the ORCC 15FT 12FT Trampoline. This trampoline utilizes high-quality powder-coated steel in its frame and six pairs of legs as its foundation.
It includes wind stakes to keep your trampoline from blowing away in a storm. There are more springs used in the design of this trampoline to give it more bounce and increase its weight capacity.
Its jump matt is made of weather and UV resistant polypropylene and its safety net and pads are also made of weather and UV protected materials. It supports up to 330 pounds.
Pros
This trampoline has plenty of durability in its steel frame with six pairs of legs and the handy addition of tie downs for storms.
Thick pads are used for spring protection.
All safety materials and the jump matt are UV and weather resistant.
This trampoline contains the highest number of springs of all of its competitors.
The weight capacity is 330 pounds.
Its price is very competitive.
Cons
Assembly can be something of a challenge with this unit.
Customer assistance seems to be lacking when it comes to getting help concerning this trampoline.
A Great Choice If…
You want a durable trampoline that the whole family can use. If you are not already pretty familiar with trampolines and their function, this might not be a good option for you.
Why Buy a Trampoline
After making use of our buyer's guide and reviews, you will be well enough informed to make a qualified buying decision when it comes to selecting the best trampoline to fit all of your needs and preferences.
With that goal in mind, let's answer a few quick questions about trampolines.
What Benefits Can You Expect from a Trampoline?
Besides getting your kids out of the house and away from their electronic devices, trampolines have a great number of health benefits for both kids and adults. Used safely, trampolines can help improve coordination and agility, muscle tone, bone strength, cardiovascular health, and blood sugar levels.
They are great for stress relief and they provide hours of fun as well. Better yet, your trampoline can be used by the entire family as a way of bringing everybody together to share in the fun.
Rectangular vs Square vs Round Trampolines
Besides their difference in shape, rectangular and square trampolines also differ in design. Rectangular trampolines have more flexible springs, offering a higher jump and more landing force, which is why they are used by gymnasts. On the other hand, square trampolines offer harder and lower bounces because their springs have a crisscross pattern, making them safer for beginners and children.
But these days, round trampolines are getting more popular especially with kids. With the round type, users are always directed to the center of the trampoline when they bounce. This is why there are most applicable to beginners who just want to have fun and families who have young children. They are also the easiest ones to set up and the cheapest, too. This is because circular frames require less support.
How Much Does A Trampoline Cost?
There are all kinds of trampolines on the market, and they vary tremendously in price. In fact, the price of a trampoline has much to do with its shape, size, quality, and safety features.
Check out the benefits of each shape trampoline and decide which trampoline best fits your needs.
Benefits of Trampolines According to Shape
Rectangle Trampoline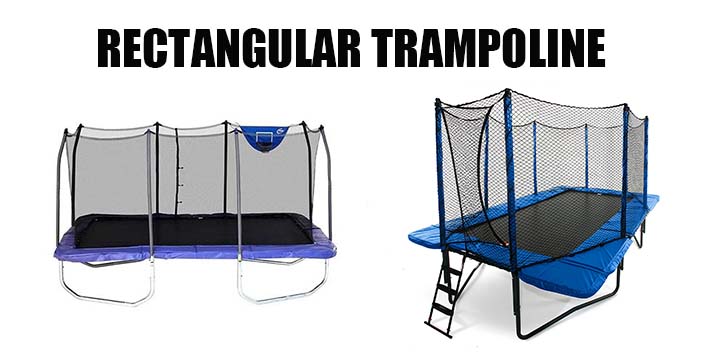 Rectangular trampolines have the best bounce off any shape trampoline and are typically preferred by gymnasts. The shape allows the springs to work independently; this creates an even and controlled launch and landing, regardless of the jumper's position on the trampoline's surface. The shape also gives jumpers the ability to jump long distances, enhancing bounce and fun.
Square Trampoline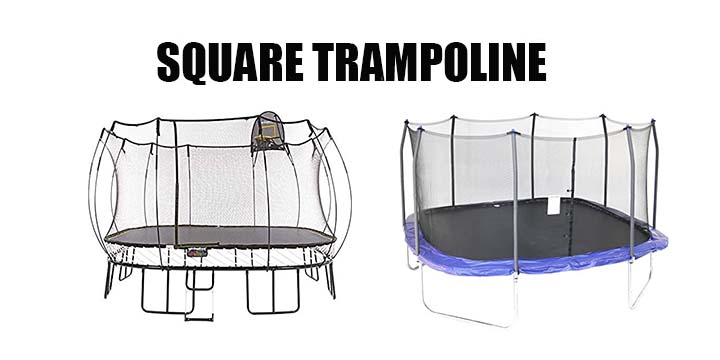 Square-shaped trampolines provide, on average, 20% more jumping space than the typical round trampoline; this is attributed to the fact that the corners of the trampoline can be utilized as a jumping surface.
Square trampolines typically have a higher weight limit, as their frames are composed of a higher gauge of steel. They tend to provide more bounce than the typical round or oval trampoline but not as much bounce as a rectangle, creating just the right amount of bounce for all users. Its square shape also allows for easy placement and conservation of yard space.
Round Trampoline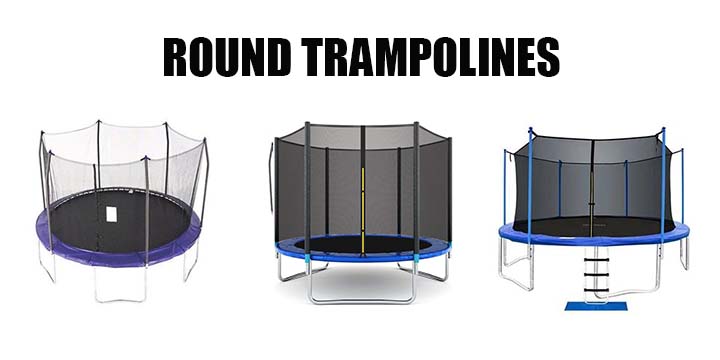 The round trampoline is the most popular shape on the market. Since the springs are evenly placed around the circle, this shape allows for a consistent bounce. It also naturally redirects jumpers back toward the center of the jumping surface, a great safety feature.
Round trampolines require significantly less steel to create a sturdy frame, and those savings are passed on to the customer – circular trampolines tend to be significantly cheaper than all the other options. The relatively lightweight frame also allows the trampoline to be relocated easily.
Oval Trampoline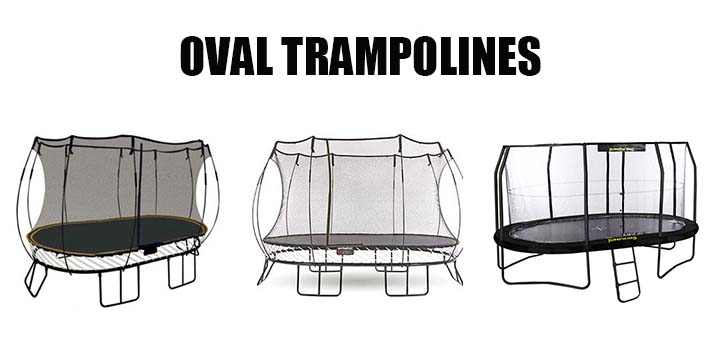 The oval shape gives all the benefits of the round shape, along with an increased surface for jumping. So if you are looking for a round shape but want a greater size without a bigger frame, an oval shape would be the best choice.Springfree Trampolines offers the best oval trampoline solution and provides a broad range of options in this category.
Octagon Trampoline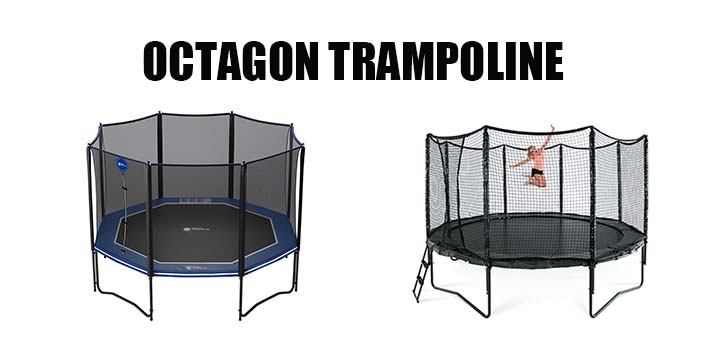 Octagonal trampolines are similar to their round cousins. However, they tend to be sturdier and last longer. For this reason, they tend to be pricier than standard round trampolines. They provide extra jumping surfaces and high-quality springs create a bounce slightly superior to that of round trampolines.
Indoor vs. Outdoor Trampolines
Indoor trampolines tend to be smaller than outdoor trampolines. They are usually for fitness purposes and for small children and do not produce much of a bounce effect. Rectangular trampolines, because of their superior bounce effect, are commonly found in gyms and indoor trampoline parks, such as Skyzone.
Since indoor trampolines are so much smaller than standard outdoor trampolines, their price is significantly lower. Rectangular trampolines, however, although they can be found indoors, are perhaps the most expensive of all the categories.
Which is Right For You?
Deciding which is the perfect trampoline for you and your family also depends on what you're planning on using it for.
Is it just for outdoor entertainment for your kids?
Are you interested in improving your overall health and plan on using the trampoline as a means of exercise?
Are you a professional gymnast?
These are all questions that you should consider when deciding upon which trampoline to purchase.
Round trampolines are safer Since the springs are evenly placed around a circular trampoline, jumpers are always redirected toward the center of the jumping surface, regardless of where they launch from.
Rectangular trampolines are typically used by gymnasts and usually provide higher altitude and can absorb more force during the landing.
Effect of Quality on Cost
The higher the quality of a trampoline, typically, the more expensive it will be. If you're looking for something that can just last through the summer, you can probably settle for a lower quality trampoline. However, if you're looking to make an investment for several years to come, you will probably opt for something a little more durable and perhaps pricier.
Safety
High-quality materials are generally more expensive than low-quality materials. Well-constructed trampolines are usually decked with several safety features including coil-less jumping surfaces, heavy-duty steel frames, additional safety cushioning, and enclosures, to name a few. These safety features are oftentimes not found in cheap trampolines. Safety is not something you should compromise on, but enhanced safety features do tend to drive up prices.
What to Look for When Buying a Trampoline for Toddlers
Because of the popularity of mini trampolines, you will find that there are so many different choices available now. This form of exercise equipment is ideal for small kids and toddlers and can be installed inside your home. They come in different designs, shapes and sizes and are also made of different materials.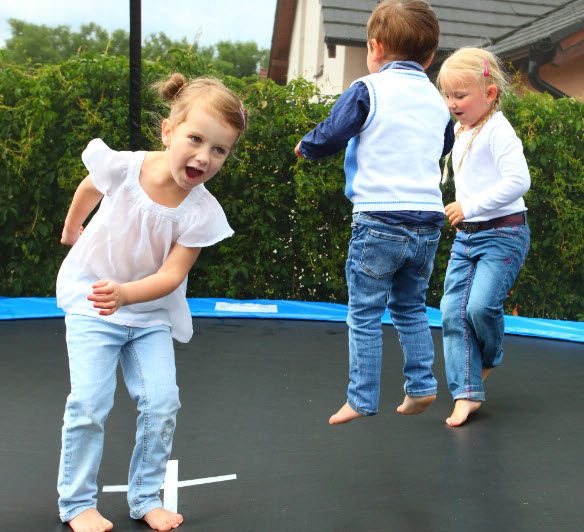 If you are thinking of buying a trampoline for toddlers, here are some tips that can serve as your guide.
Measure the Total Playing Area
To do this, you can use a tape measure. You can measure the total length and the width of the particular area where you want to place the rectangular or square trampoline. On the other hand, when placing a hexagonal or round trampoline, you have to take into account the diameter. It is very important to make sure that the entire area is on a flat surface and that there is some extra space around the trampoline so that you can enjoy an unobstructed bounce.
Calculate the Complete Safe Fall Area
After you've finished measuring the play area, it's important to add 6 feet of extra space to the dimensions so that even the areas where your child might fall are covered. This area should also be free of any obstacles such as fences, walls, power lines and sidewalks.
Who Will be Using the Trampoline?
If you have older children, then it is recommended to use larger trampolines, i.e. the 12-foot and above variety. This is because these larger trampolines can effectively support more weight capacity and also have enough room for your child to grow.
Safety Features
Remember that safety should be your number one priority. Therefore, look for the type of trampoline that is fully equipped with the necessary safety features. Depending on how strong the child's legs are, there should either be a safety net enclosure or gripping handles.
The handles are for toddlers to have something to hold on to while they are bouncing up and down. This is also for them to be able to maintain their balance until they are able to achieve a comfortable posture. The safety net is more for kids who have developed leg strength. The added benefit of trampolines that do have safety net enclosures is that they won't be able to fall off and hurt themselves.
Extremely Durable
Just like with buying any kind of equipment, the trampoline should be extremely durable. This means that it should be made from excellent quality materials, something that will not easily give up even if your kids will be using the trampoline on a daily basis. The best way to know if a certain trampoline is durable is by reading trampoline reviews online.
Some parents who have tried buying a certain brand of trampoline will share their thoughts online and they will most likely talk about the durability of such trampoline. If the product has earned an extremely high rating when it comes to durability, then that is a good sign. Refrain from buying cheaper brands of trampolines. You might be able to save money, but they could put your toddler's safety at risk.
The best place to start shopping for a trampoline for toddlers is through the World Wide Web. There are lots of colorful trampolines for kids that you will find in various online stores these days and you can easily find an ideal one for toddlers and small kids to use.
They can be installed both indoors and outdoors and they come with several safety features that will keep your toddlers safe. Just make sure to research well enough and read a lot of reviews.
Visual Appeal
It is important to imagine exactly what the trampoline you intend to purchase will look like in the selected area. It should blend in with the layout, taste, style, and current layout of the area.
Trampoline Safety Rules Everyone Should Follow

FAQs
Conclusion
Trampolines have some great benefits to the body. It gets rid of some physical ailments and also liberates the mind, keeping you in a good mood always. We have tried to provide you with the best trampoline reviews for 2022 so that you get the best for yourself. We have tried to highlight the most pertinent information that might help you to take your decision.
You must keep in mind the material, the safety features and the durability of the product before making a choice. We have laid out the trampolines of your dreams, choose the best for yourself and take the leap of joy.