If you're looking to find the best rectangle trampoline for your backyard, you've come to the right place.
Rectangular trampolines provide the important added feature of a very even bounce across the entire jumping surface. This makes rectangular trampolines not only a lot of fun, but they are especially great for your aspiring gymnast, figure skater, wake/snowboarder or skier to develop their skills.
3 Best Rectangle Trampolines
The availability of rectangular trampolines is good news in the sense that you have a lot of products to choose from, but the problem lies in figuring out which one to get. To help you out, we have prepared this buyer's review guide.
1. JumpSport 10×17 StagedBounce with Enclosure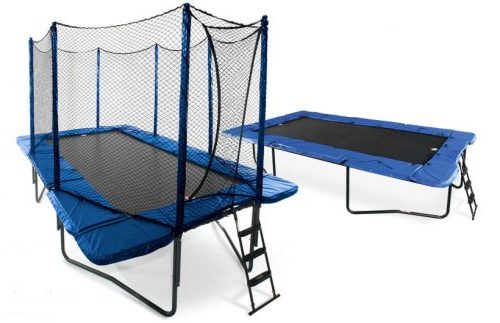 Because of the high-quality safety features, jumping experience, and materials used to make this JumpSport rectangle trampoline.
It stands out from the pack and earns the "Recommended Buy" seal of approval.
Its foundation is a heavy-duty, rust-resistant, galvanized steel frame with a powder coated finish similar to that on high-end mountain bikes.
The jumping surface is composed of industry-leading UV-protected materials and uses high-strength straps, steel connection rings, and stitching to connect to the springs.
The 1" thick spring & frame pad combines with the patented safety enclosure features to provide a safety-first trampoline experience.
Two of the key enclosure features are the overlapping "always secured" entry and thick woven braided, UV protected netting which lasts longer and stays safer.
These features and more add up to a top-quality jumping experience that will last years. The proof is in their fantastic best-in-class warranty which includes a 10-year warranty on the steel frame and 5-year warranty on the springs and jumping mat fabric.
2. Skywalker 15×9 with Enclosure – Best Value Buy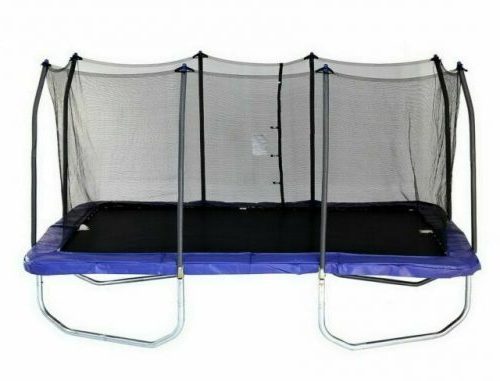 The 15'x9' Skywalker rectangular trampoline combines a solid core set of features with a great price, making it the Best Value Buy in this category.
It has a strong frame with rust-resistant 12-gauge, galvanized steel, and welded T-sockets at the joints. The woven jump mat, safety netting and 1″ thick spring pad are all UV protected to resist deterioration in the sun.
Notable safety features include off-set padded poles, and a patented No-Gap enclosure system which eliminates gaps between the safety net and the jumping mat.
Skywalker has the most affordable list price and can often be found on sale.The great price combined with its solid list of features makes it the best value rectangular trampoline.
3. Upper Bounce Easy Assembly with Fiber Flex Enclosure
The Upper Bounce 9'x15' rectangle trampoline has a great set of features at a great price and some unique qualities not found in the other trampoline models.
Similar to the JumpSport, it has a 12-gauge, rust-resistant, galvanized frame that is powder coated for extra protection and wrapped enclosure poles to improve the durability of their foam padding. The 1" thick spring pad cover has alternating colors that give a visual aid for acrobatic jumps.
This trampoline has a high single user weight limit of 500 lbs.The safety enclosure net is attached to a flexible ring of poles to ensure maximum enclosure stability.
The mat has 8 rows of stitching to prevent tearing, which is more than many manufacturers provide. This extra reinforcement for the mat is probably why it receives a 1-year warranty (longer than comparable models) on both the mat and metal frame.
There you have it.
Our top three rectangle trampolines stand out from the competitors for their high quality construction, supreme bounce, and emphasis on safety.
And if you're still thinking about just which one you'd like to purchase, read on for some tips on how to choose the best trampoline for your needs.
5 Important Considerations When Choosing a Trampoline to Fit Your Needs
We've read the reviews, sorted through the information, and compiled a list of the top 5 things to consider when purchasing a trampoline.
These five things cover the ins and outs of what you need to know when on the hunt for the perfect trampoline.
1. Shape
There are several different shapes commonly available for trampolines: rectangle, round, oval, and square.
Rectangular trampolines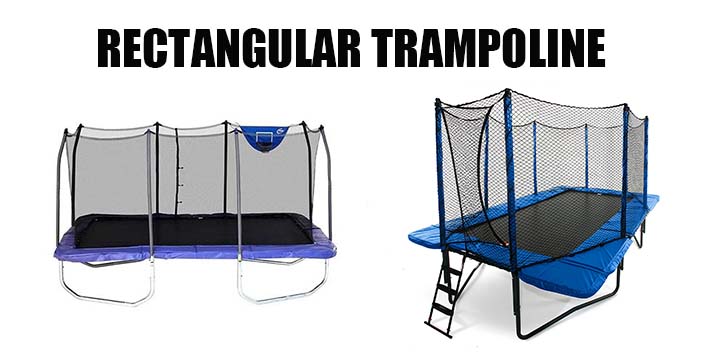 Rectangular trampolines are the perfect shape for gymnasts or other athletes, such as wakeboarders, snowboards, skiers and figure skaters, that need plenty of surface area and bounce to practice their stunts and skills. The springs work individually from one another which gives an even bounce across the entire jumping surface and means that you can control where you take off and land.
For more inexperienced jumpers, this might be a safety concern, as the trampoline does not send them toward the middle. If you're looking to mimic the trampolines you'd find at a local gym, then this is the one for you.
Round trampolines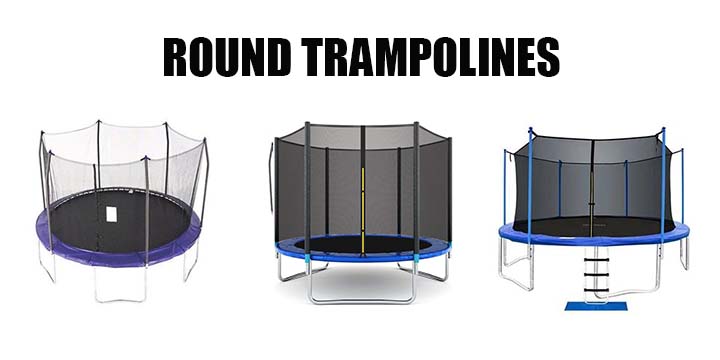 Round is the most common trampoline shape, primarily due to the lower cost point offered in these models. The highlight of the round trampoline is that it sends jumpers back to the center no matter where the jump started. This helps with safety, keeping jumpers away from hazards like the springs and ground. You can find the largest variety of size options in the round trampolines.
The typical range is 7 to 16 feet in diameter (not including even smaller toddler and exercise trampolines). You want to select your size as a function of how much yard space you have and how big your jumpers are. Round trampolines are also lighter weight, allowing an adult or two to move the trampoline fairly easily, if needed, which is especially helpful for keeping the lawn mowed underneath.
Oval trampolines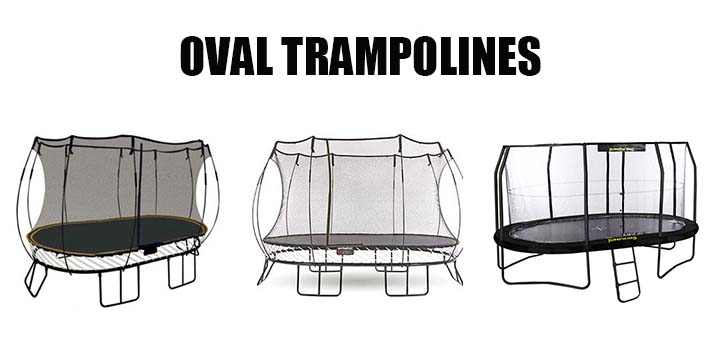 Oval has most of the same benefits as the round, but it allows for more jumping surfaces with an elongated shape. You'll need to be mindful of how to assemble this trampoline because the pattern is very specific for the frame and can be a bit tricky.
Square trampolines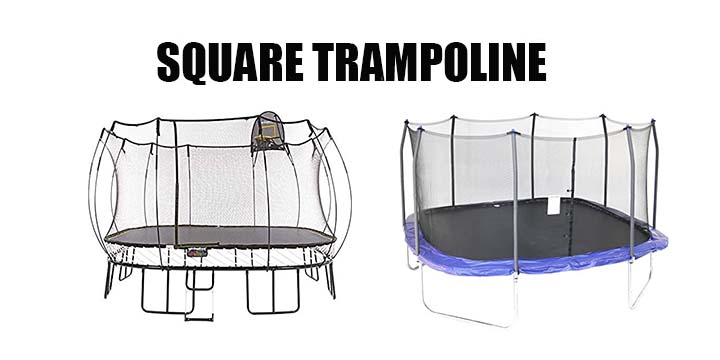 Square combines features from round and rectangle to make it the best of both worlds – the safety of the round trampolines and a more even bounce, similar to rectangle trampolines. It has 15-20% more jumping surface and allows jumpers to really soar. These usually have a higher weight limit allowing for adults to enjoy them as freely as the kiddos.
2. Size
There are a variety of sizes, depending on the shape of the trampoline you choose.
Rectangle: 10'x17′, 10'x14′, 9'x15′, 8'x14′
Round: ranges of 8~16ft diameter for adult-sized, 3~6ft diameter for toddler/child-sized, and 3~4ft diameter for exercise
Oval: 8'x12′, 9'x14′, 15'x17′
Square: 13ft, 14ft, or 15ft
The main considerations when selecting a size are the ages of your jumpers, the space you've got in your backyard, and the surface area you'd like to have for jumping. For younger jumpers, it's usually recommended to go with a smaller sized trampoline – something closer to 8 feet.
The backyard space you have will determine size as well because you need about 8 feet of clear space around the perimeter of the trampoline and 24 feet vertically. So considering these factors will help you decide how big you can go.
More: How to Choose and Measure a Trampoline?
3. Springs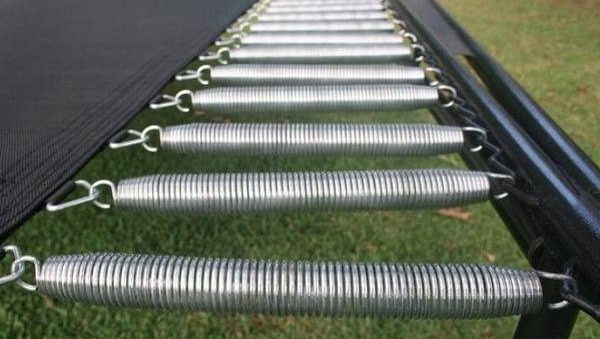 One of the big decisions to make when purchasing is to spring or not to spring.
The most common trampoline style uses metal springs that surround the perimeter of the jumping mat and hold it in tension to a perimeter metal frame. These springs can act differently depending on the shape of the trampoline, and the length and thickness of the springs. It's important to look for springs that are heavy duty steel and preferably rust-resistant (usually galvanized).
One of the important steps to keeping your metal springs healthy is to remove the jumping mat and springs for winter if you live in a location that gets snow or ice. The snow and ice building up on the jumping mat will weigh it down and can permanently stretch out and ruin your springs.
As of 2004, theSpringfree Trampoline has been available. Its alternative design features glass-reinforced plastic rods that support the jumping mat from underneath, around the perimeter, rather than pulling the mat in tension with steel springs.
It still allows for a great bounce but one that enhances safety by removing some of the more common injury components from the jumping surface. The Springfree Trampolines also provide added convenience for wintertime storage and usage, since they are less sensitive to snow accumulation, although they should still be cleared of snow to prevent too much building up at any one time.
4. Safety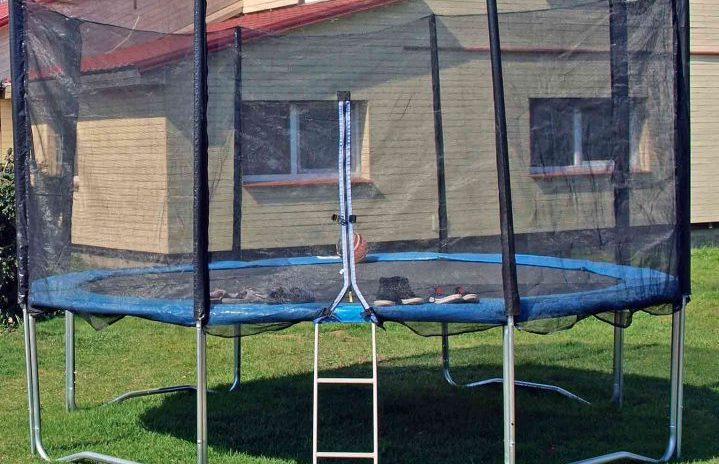 While trampolines can provide hours upon hours of fun, exercise, and skills training in your own backyard, it is important that trampolines are purchased, maintained, supervised, and used in a way that maximizes safety.
Purchase for Safety
There are several key things to think about so that you purchase a trampoline with safety in mind:
First, you want to consider the space you have available for placing your trampoline. The trampoline needs to be installed on level ground and you want to be able to have at least 8ft of clear, level space around the perimeter of the trampoline frame, and about 24ft of vertical clear space above the ground.
Second,we highly encourage only purchasing and using trampolines with safety net enclosures. Manufacturers implement this feature differently, but you want to look for strong vertical poles, durable, thick netting and good attachment of the poles to the trampoline frame.
Lastly, buy a trampoline that is the right size and quality for the jumpers that will be using it. Check the weight limits, and buy larger trampolines for more advanced, older jumpers. We also recommend getting a ladder to help get jumpers on and off of the trampoline safely, such as the JumpSport SureStep.
Maintain for Safety
It is important to make sure your trampoline is maintained properly to avoid unsafe pitfalls. This includes checking that the frames, springs and mat are in good condition, installed correctly and are secure. Also, check that the cover pads and enclosure components are in good condition and properly installed.
Further, it helps to keep the trampoline out of direct sunlight as much as possible, or see if the manufacturer sells an optional weather cover. This prevents UV rays from deteriorating the mat and pads, which will speed up their needing to be replaced. Also, storing the springs and mat in the winter will prevent them from getting damaged by snow accumulating on the jumping mat.
Supervise for Safety
While it can be nice to think of the trampoline as a babysitter, it is a bad idea that can end with a trip to the ER. It's important that proper supervision is provided for young jumpers to make sure the trampoline is fit for jumping and that the jumpers are using it responsibly, including following recommended weight and jumper limits. One way to prevent smaller children from using the trampoline unsupervised is removing the ladder and keeping the enclosure net sealed when not in use.
Jump Safe
There are lots of crazy ideas that can come to mind when using a trampoline, like using it to jump into the pool, or jumping on it when it is icy.
And while they may make you into a YouTube celebrity, especially if they go wrong, they could also be very dangerous. We recommend always jumping with all of the safety features installed that came with the trampoline, and staying under the weight limit. Only one jumper should jump at a time, which is usually the recommendation from the manufacturer.
A trampoline should not be used when it is wet or if there is ice on the mat. It should go without saying, but you should not attempt to jump offof the trampoline, or try to jumponthe trampoline from something else.
If a jumper is going to do stunts, flips or tricks, they should be aware of the risks associated and not try tricks too far beyond their ability. It's recommended that jumpers remove jewelry and shoes, as well as avoid wearing loose clothing that could easily become a jumping hazard.
Check out this video for a few more tricks to buying a safe, economical trampoline:
5. Storage (and Maintenance)
Storage and maintenance are key to keeping your trampoline jumper-friendly for years to come. If you're in a climate that gets heavy snow throughout the winter, then you'll want to take down the jumping mat, springs and soft materials, including pads and netting to store indoors or in a garage. This will prevent the weight of the snow from stretching the springs or damaging the mat and soft materials.
You will also want to do a semi-annual check, once at the beginning of the jumping season and once in the middle, to make sure parts are in working order and are attached properly and securely.
Be sure to check the straps, bungees, connectors, enclosure netting, frame pad, springs and frame pieces, and jumping mat. If any parts are worn, be sure to get proper replacements before letting the trampoline be used.
With these five things in mind, you can find your perfect trampoline. In our opinion, it's the JumpSport 10×17 StagedBounce, which you can find on Amazon, if you follow the link.
Accessories
Once you've found that perfect trampoline, the next thing to consider are the accessories.
We'll start with the practical ones first, giving you our top choice for each. These are some of the most useful extras to add safety and convenience to your trampoline.
Ladder
This would be one of our top accessory recommendations. For the price, it's the one item that can really increase the safety of your trampoline.
Our top pick is theJumpSport SureStep 3 Step Ladder. It's easy to attach and remove, giving your trampoline a huge safety boost. Plus, the steps are large platform style, so there's less chance that kids will slip and fall.
True to the high quality of the JumpSport brand, they're powder-coated and UV-treated, meaning they won't be as easily affected by the sun and are less likely to rust. Even if you choose another trampoline, this ladder will fit most that are 37-41 inches high.
Anchors
Some folks are content to anchor their trampoline with sandbags or other heavy weights, but if you'd like an alternative, anchors are the way to go.
Depending on the brand you choose, they are either corkscrews or U-shaped. Tying down your trampoline with some solid anchors will give you peace of mind that in a bad storm or strong winds, it's less likely to be blown away or destroyed, even when the safety enclosure is up.
JumpSport, again, has our top pick. The corkscrew design secures them a foot into the ground, and the straps loop around the edge of the trampoline and back onto the anchor. These can be used with most trampoline designs.
Shoe Bag
We all know kids have trouble keeping up with their things, especially when it's time to play. So do yourself a favor, and keep their shoes all in one place with a shoe bag. Most brands have 2-3 pockets.
We particularly like theUpper Bounce bag. It's reasonably priced and has 3 pockets that can hold shoes, glasses, water bottles, and any other accessories you or your kids may need to store before jumping. The bag can attach to a ladder and one leg of the trampoline or can fit between two legs. This is a must-have accessory to keep things neat and easy to find.
Lubricant for squeaks
As trampoline springs rub against one another, they can start to squeak. A quick fix for this is some lubricant. We'd recommend Tri-Flow. It's top-notch for use on bicycle chains, and it's a great option for keeping the squeaks out of your springs without leaving an oily buildup.
Weathershield
A weather shield will help protect your trampoline during more inclement weather. If you live in an area that gets only a few light flurries of snow a year, then we'd recommend you cover your trampoline. However, if you're in a state or country with harsh winters, then it's best to store your mat and springs indoors to keep them in their best condition.
If you'd like a cover, here's one from Upper Bounce. It's UV resistant, protecting your mat from the sun's potentially damaging rays, and it easily straps onto any 9'x15' trampoline. The added bonus of using a cover is that it keeps the mat free of debris and water, making it ready for jumping as soon as you are!
Why Are Rectangular Trampolines More Expensive?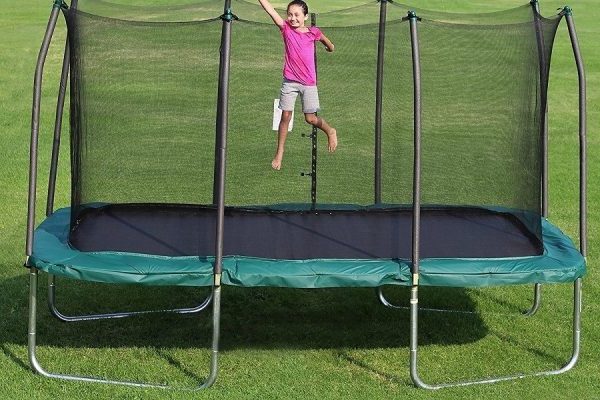 Rectangular trampolines are more expensive because they cost more to build. The design of circular trampolines does not necessitate as much support as a rectangular or square shape does, so manufacturers can sell them at a lower price.
Rectangular shaped models need more support and stability, not to mention they're for long term use. Given the necessity of a robust frame, it's easy to see why it's costly.
But if your main concern is getting the most out of your performance, then it's worth the price. As has been pointed out earlier, rectangular trampolines are about performance.
Are Rectangle Trampolines Better Than Circle?
It depends on what your purpose is: if you're just after a trampoline for entertainment purposes, a round trampoline is more ideal because it's not as expensive. Circular trampolines are also suitable for kids, so in those areas they're commendable.
But if you're after the performance, the rectangular models provide superior bounce and offer better landing force as well.
If you've been using trampolines for a long time and want to try new tricks and techniques, rectangular models are better. As far as uses are concerned, the rectangular ones are meant for professional athletes like aerialists, divers and gymnasts.
Final Verdict
The difference between a rectangle trampoline and around one involves more than the shape as this guide shows. There's a huge difference when it comes to performance as the rectangular ones are superior to those of the round types.
If you're trying to figure out which one to buy, we recommend any of the four that have been reviewed here.
Some people might prefer the Skywalker Trampolines while others opt for the Upper Bounce as it is well known. And still others might like the Summit Trampoline as it is built to last. But really, any one of these will fit your needs.