We liked the sturdiness of the product and the safety it provides. It would have been the perfect purchase if a ladder had been included in the package but, all in all, it's a great outdoor trampoline.
Among the best trampoline brands, Skywalker Trampolines stand out due to the high-quality products they have been offering to their clients. They specialize in a variety of models that can be used both indoors and outdoors and the Skywalker 15-Feet Round Jump N' Dunk is one of their top products.
It's one of the expensive models but its reliability pays back for the investment. Once you see how well designed this item is, you will know why it's among the best outdoor trampolines.
Construction and Materials
The durability and quality of a trampoline rely on the materials used to manufacture it and this one is made only with the most solid and durable ones. Starting withthe frame that is made of galvanized steel resistant to rust, it's visible that the product is meant to last for years to come. The construction innovation is in the reinforced T-brackets that guarantee stability and sturdiness.
The steel is strong enough to hold around 200 lbs, which is not as much as other models that can hold as much as double of that weight.
However, no damage or tears have been reported by customers who have installed this outdoor trampoline. The 15′ diameter provides a 143 sq. ft. jumping surface on the mat made of polypropylene that is UV resistant and non-slip.
The frame sits 39" above the ground, supported by the 6 W-shaped legs made of the same galvanized steel. The mat is sustained by a number of 96 6.5" thick springs that allow for elasticity and bounce.
Although the springs are located outside the enclosure net, when this is not on, you can rest assured that you won't hit on the springs thanks to the safety pad. The blue polyethylene covers the steel springs so that you won't hurt yourself in case you land on them.
Installation
Having this item up is not very difficult, although it might require a solid adult for the job. The poles and legs easily come together without the need for additional tools and all the necessary ones are included in the package, even the springs tool that helps you attach the springs to the mat. Given the size of the trampoline, it will come in three boxes so you might need a hand carrying them.
Also, once installed, it's best to find a permanent place for it because it's not the most comfortable item to disassemble and move around. The product comes with a detailed owner's manual with installation instructions.
Skywalker Trampolines 15-Feet Jump N' Dunk Specs

Overall Dimensions (inch)
53.5 x 19.9 x 10
Frame Height
36.5"
Gauge of Steel
16
Jumping Surface Area
141 sq. ft.
Shape
Round
Springs
96 – 6.5"
Weight Capacity
200 lbs
Frame Construction
T-bracket
Enclosure System
Gap Free
Warranty
Lifetime
Safety in Use
Although the Skywalkerweight limit is only 200 lbs, it is designed for adults and children alike. We are not sure how many people can jump on it at a time but as long as the capacity is not overly exceeded, we assume that two kids can use it simultaneously. Speaking of kids, you must know that the product isdesigned for the age 3 and above so it's very versatile and practical play equipment even for the very small ones.
However, don't leave them unattended and try to keep the enclosure net on at all times to prevent falling and accidents. Thanks to the tight closing system, the net will always protect you from injuries when jumping on the trampoline. It's important to know that this item is certified by the American Society of Testing and Materials so you can be certain that it's made using the best materials that ensure the highest level of safety.
Accessories
The accessories increase the fun of jumping on a trampoline and also limit your further expenses as you won't have to buy other gear. The Skywalker 15′ lacks a major asset, which is the ladder that would be helpful in getting on and off it. However,it comes with a basketball hoop and ballto make the time spent outdoors even more entertaining.
Enclosure Net
As for the enclosure net, it's made of a durable woven mesh with very tiny holes to prevent sticking your fingers through them.The net is an integral type, meaning it is positioned close to the center and not to the edge of the frame, to prevent accidents, as we mentioned earlier.
The little ones will have a hard time opening it and getting out thanks to the dual zipper and latch clip closing system. Also, the no-gap enclosure that is attached to every spring minimizes the risk of children escaping through the gaps. To provide extra space between the net and the poles, there is foam padding on the poles to minimize the risk of hurt.
Warranty and Durability
Because some things will make you jump up and will be placed outdoors, you need to rely on a very good warranty. Unfortunately, this product is not available for such a long time.
Compared to the Super Jumper Combo that boasts a 5-year warranty, the1-year on the frame available for this item seems too small.
However, please note that mats, nets and jumping mats also enjoy a 90 day warranty. Compared with some models, the warranty period is small, but compared with other models, the warranty period is sufficient. It has received good customer reviews, so we dare say that you don't even need a warranty because it's not a problematic or low-quality trampoline.
Skywalker Trampoline 15-Feet Jump N' Dunk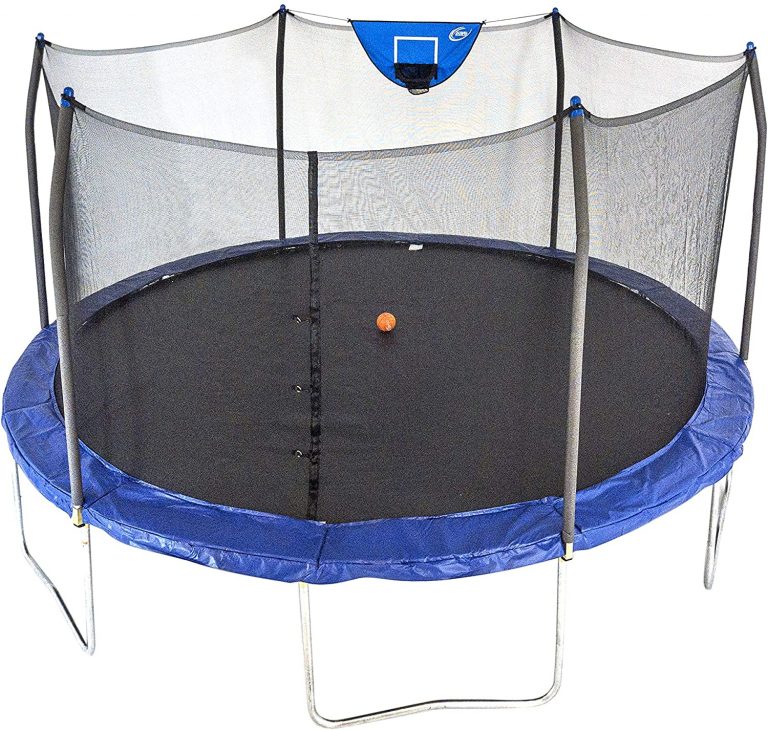 Product Description: The Skywalker Trampoline 15-Feet Jump N' Dunk offers a strong frame that's made from steel, industrial strength bungee cords, and welded joints, so you can be sure it will last for many years and through the wear and tear of regular use. It can accommodate two users at once, and as long as they're within the weight limit of 225 pounds each, they'll both be able to enjoy a safe experience on the trampoline.
Quality

Performance

Affordability

Fitness

Durabilty
Summary
The Skywalker 15-Feet Jump N' Dunk is a great outdoor trampoline that will keep kids active in the backyard all summer long. This trampoline is especially suited for children who are 8 years or older and have a weight of less than 225 pounds.
Pros
Lots of safety features
Easy to assemble
Basketball hoops add to the fun