When choosing an outdoor trampoline, it is best to do thorough research first. Only invest in products from well-known manufacturers, such as Zuppa TUV approved trampolines. The product is available in three sizes, 12 ', 14' and 15 ', and we decided to review 15'.
Because it is the most popular version.
It is one of the most expensive models, but its price matches its quality, as you will see in the reviews below.
We rated it as a top choice because it's qualitative, durable, and customers are very pleased with how it looks and how stable it is. The warranty is a big advantage compared to other similar models.
Construction and Materials
This is a bulky item thatmeasures 94 inches, with a 72 inches enclosure net and 22 inches from the ground. Compared to other models, it doesn't stand too high from the ground so it's easier to escalate by children. Also, the net is reasonably high to keep you protected no matter how high you jump in the air.
The structure is a very robust one, made ofheavy-duty galvanized steel that measures 42mmin diameter in 1.5mm in thickness, being very solid and resistant to pressure and bouncing. The construction relies on 6 U-shape legs that are bundled tightly to the poles at two places, thus improving stability and preventing twisting.
The jumping mat measures 15′ in diameter and are made of a thick yet elastic polypropylene that provides enough bounce without breaking at impact. Sunlight and heat will not damage it because it's UV resistant and it's also non-slip so accidents rarely happen. The mat is sustained by a number of 106 galvanized springs that measure 7 inches in thickness.
Compared with similar trampolines, this model seems to be more durable, more comfortable and safer. The spring covered safety pad is made of 330 mm wide, 20 mm thick blue PVC and polyethylene foam to prevent injury and collision when jumping. It's great considering that the net is placed on the outer edge so that the spring and frame are under your touch.
The enclosure net is an essential component of the Zuzupa trampoline that although is not mandatory, can increase safety while jumping on the mat. The net on this model is made of a thick mesh and is closed with a zipper and bucklesto make sure the little ones will not open it and hurt themselves while climbing down.
Zupapa TUV Approved 15′ Specs

Overall Dimensions (inch)
94 x 72 x 22
Frame Height
55"
Number Of Legs
6
Jumping Surface Area
159 sq. ft.
Shape
Round
Springs
106 – 7"
Weight Capacity
375 lbs
Frame Construction
Deep Galvanized steel
Weight
30 lbs
Warranty
3-Years
Installation
One of the biggest problems of the trampoline is the trouble during installation, which may require drilling, screwing and a lot of manual labor. Worry not as this one is very easy to assemble, requiring no drilling whatsoever.
Note that it comes in three boxes so you might want to ask someone to help you take it off and put it in place. Afterward, read the instructions manual and use the included toolsto assemble the frame, attach the mat, and have the trampoline up in less than an hour.
Enclosure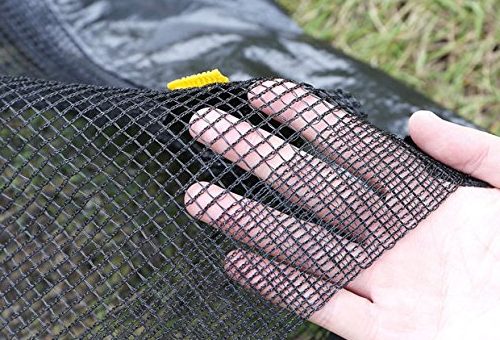 The disadvantage of this trampoline is that the quality of the enclosure is not very good, but if you are careful (cover it with a trampoline tent), it will be good for a few years. Enclosures can be purchased separately, so there will be no problems when they need to be replaced.
UV resistant polyethylene netting helps protect the bouncing device, although the old enclosure does not keep the spring away from the enclosed area. The total height of the trampoline is 2.5 meters (98 inches) and the ground clearance is 26 inches.
What we like is that the shell is quite high and the pad is very thick. This is above average, but the PVC cover is not very good, so we hope to release the safety pad as soon as possible. Some have experienced severe wear and tear in less than a year, and the cost of replacing them may be high. However, the damage is mainly superficial.
Safety in Use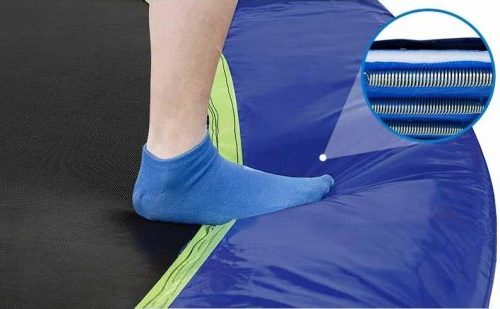 There is no need to worry about the safety provided by the Zupapa trampoline because it's a TUV approved model thatcomplies with all the safety rules and regulations.
This certification is the most important. It proves that even children can use trampolines without endangering their health. However, please remember that this product is designed for children aged 10 or older, so children should not use it without supervision.
As for the weight limit, this model is very generous, allowing users of nearly 375 pounds to jump on it without showing any signs of inclination. It's one of the biggest weight capacities found on the market. Also, the poles are covered with foam padding to prevent hurt.
Accessories
Luckily, this item comes with all the essential accessories that make it very practical and extend its durability. As such, even if it doesn't include a basketball hoop for playing games, it comes with more useful things like the galvanized steel ladder that makes getting in and out a breeze.
It's atwo-step ladder that can withstand weights of 375 lbs, the same as the trampoline itself. A great accessory that not many products come with is the rain cover that allows you to protect it from rain and dust, thus, prolonging its lifespan.
Warranty and Durability
As with any of your purchases, the warranty that accompanies the Zupapa trampoline is essential for protecting your investment.
You can rest assured because it comes with a generous warranty for all the components, as follows:3 years for the frame which is extremely important,one year for the springs and the jumping mat, and6 months for the safety pad and enclosure net.
With such strong protection, you will enjoy a durable product, which will bring you a lot of fun. It's among the longest warranty periods offered by a manufacturer for a product that costs less than $1,000.
Zupapa TUV Approved 15' Trampoline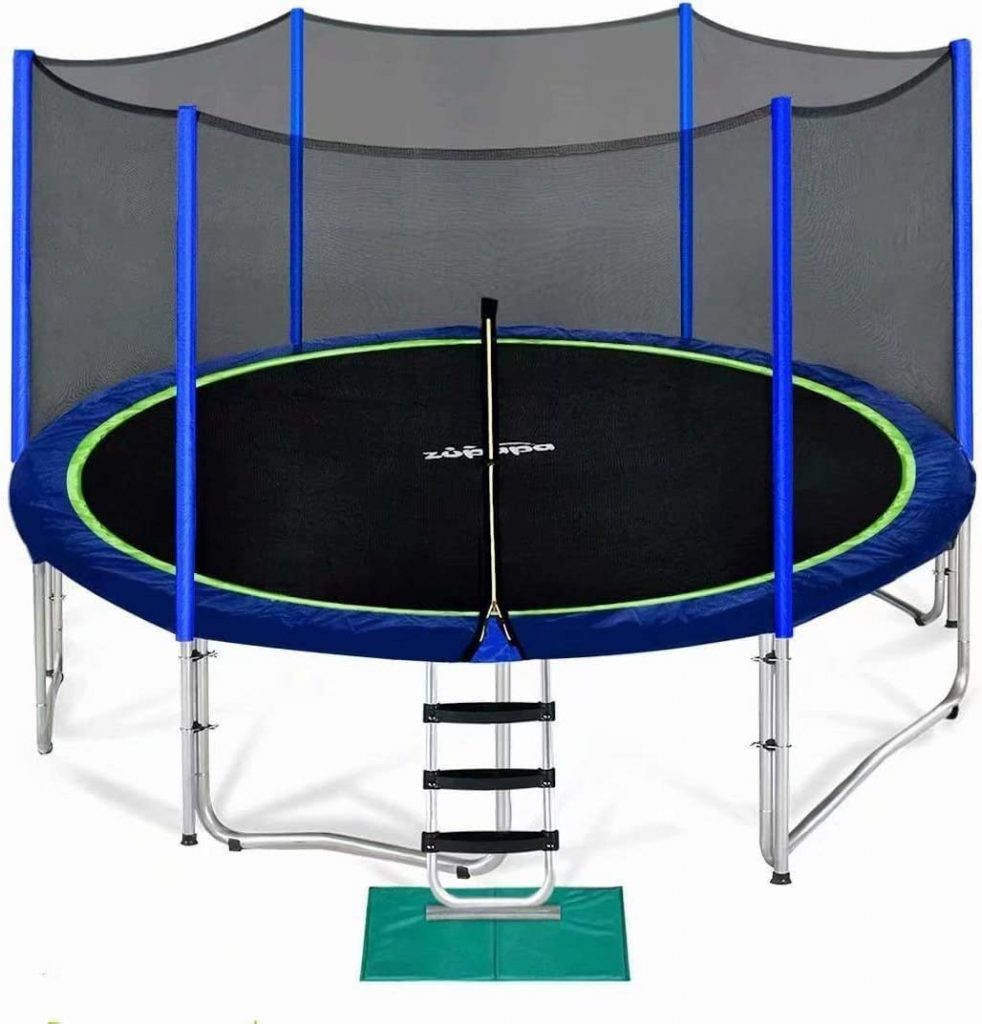 Product Description: Zupapa offers the ultimate backyard bouncing experience! Everyone's favorite trampoline is back and better than ever, now with upgraded aluminum poles, a padded handle for added stability, and a top ring to protect your jumping area. The thick, comfortable padding provides plenty of cushioning so kids can jump to their heart's content. This medium-sized trampoline is great fun for kids, and even for adults!
DESIGN

DURABILITY

SAFETY

CONVENIENCE

AFFORDABILITY
Summary
With its large jumping area and high safety rate, this trampoline is ideal for your child.
The frame's TUV certification makes it safe and fun for you and your family to enjoy together.
The trampoline comes with a hand pump for quick installation without additional tools so you can get to the fun part and enjoy the springs with your kids!
Pros
Perfect for younger kids
With 8 anchor points for added stability
Easy set up
Durable construction
Great for a range of activities
Cons
Safety pad cover may not last long