Trampolines, especially large outdoor models, are designed to be a few feet off the ground. Indeed, most trampolines have a safety net and padding to protect people from falling.
But in fact, it is very difficult to get up and down the trampoline. Especially for young children.
A few feet of clearance is a struggle for children. They must try to jump or climb into the mat – it's not the safest idea. In addition, if a child has jumped on the trampoline, it is more difficult to climb on the mat.
Of course, there is a solution: a trampoline ladder.
A trampoline ladder is an important accessory to improve the safety and availability of trampoline. Ladders are usually connected directly to the frame. They provide a simple and safe way for children to get in and out of the trampoline.
They are usually built like trampolines: light but rigid.
It is also durable enough to withstand the wear and tear of wayward children. Like a trampoline, there are many options to consider. That said, I reviewed some of them to see which met the standard.
How does a Trampoline Ladder work?
It is actually pretty simple because all trampoline ladders are one-sided ladders. The top part of the support of these ladders is hooked which allows for easy attachments to the sides and edgesof any trampoline.
These ladders are made out of tubed metal supports that provide ample lift for those climbing on them. No matter how heavy the person is, this ladder is capable of holding his or her weight.
7 Best Ladders for Trampoline
Take a look at our list of 7 ladder options specifically for trampolines:
The Pure Fun Trampoline Ladder is a heavy-duty steel ladder that's sturdy and designed to fit most outdoor, full-size trampolines.
The ladder is strong and supportive. But it's also water-resistant and UV-resistant, so you know it will hold up to the abuse of sunshine or rain.
What I personally liked about this trampoline ladder was the rubber steps. The rubber is thick with a non-stick texture. It's easy to get a safe footing while climbing, and it won't hurt bare feet.
This is a 2-step ladder, as opposed to 3, but the bottom part of this ladder that touches the ground is padded too. So even if the two steps feel somewhat tall for a smaller child, they can easily use the padded bottom bar to get started climbing up.
Pros
Heavy duty steel easily supports most children and adults
UV and water resistant
Rubber, non-slip steps are comfortable and safe
Easy assembly
Big enough for full-size trampolines
Cons
Too big for most small or indoor models
Steps are steeper than some 3 step models
The Skywalker Trampoline Ladder was designed for kids of all ages to enter their trampoline quickly and easily.
This ladder uses two steps, which are extra wide, so there's no need to try and strain or balance on the way up. It's very comfortable.
Also, the steps are wide enough for children to sit on, and tie or untie their shoes before and after jumping.
The ladder itself is made from rust-resistant steel. The top of the ladder uses wider than normal hooks.
It can safely attach to many different trampolines makes and models. It's also padded on the bottom bar, creating a safe place to step on if needed to access the first step.
Pros
Rust-resistant steel
Extra-wide steps for stability
Easy assembly
Fits a broad range of full-size trampoline models
Easy access for kids
Cons
Too tall for smaller trampolines
Super Jumper's Trampoline Ladder is made to fit a wide variety of trampolines, even square and rectangular models. A nice touch to this ladder is how easy it is to remove from the trampoline.
It's easily put on or off. Keep in mind that taking the ladder off is a good way to restrict trampoline use for a little while.
Another thing I liked about this trampoline is how rock-solid the finished product is. It was easy to assemble. It feels made to last a long time and can stand up to a lot of usages.
The steel is also UV and water resistant. This is critical for those long summer days and nighty in the heat and humidity.
This ladder also uses two wide, hard plastic steps, which give a stable footing and balance. The steps are somewhat rough for barefoot, but they are solid and strong.
Pros
Easy assembly and installation, also this ladder is easily removed from the trampoline
Fits round and square shaped trampolines
Wide, sturdy steps for secure foot placement
UV and water resistant
Fashionable design
Cons
Ladder may move about on frame, so anchoring or weighing it down may be a good idea, depending on your trampoline and yard
Trampoline Pro makes a classic, heavy-duty trampoline ladder. Most adults, let alone their children, would find that this ladder can adequately support them.
The high-strength, powder coated steel frame is strong and built for long lasting durability. It also has a resistance to rust and corrosion. And thanks to the design of the frame, it works for trampolines of all shapes.
This is also the first trampoline ladder in this guide that uses three steps.
For some, the third step makes climbing up and down much easier. The steps are wide, and textured, providing a very stable platform.
Generally, most trampoline ladders are easy to assemble. Personally, I found this model by Trampoline Pro to be the easiest to put together, as it only comes with only a few pieces. I was somewhat surprised by this because it's such a sturdy, well-built ladder.
Pros
Heavy-duty steel frame
Powder coated to resist rust and corrosion
Fits round and square trampolines
Three wide, robust steps
Easy, fast assembly with minimal parts
Cons
Fits more tightly on round trampolines rather than square
Children will appreciate the stability and easy access provided by the JumpSport SureStep 3-Step Trampoline Ladder.
For starters, it has three wide, sturdy steps. There's also an additional beam running underneath the steps to ensure balance and stability. This ladder was designed first and foremost to be solid and stable for worry free entry and exit to a trampoline.
The steel frame is strong and eye-catching because of the powder coating. This powder coating also helps prevent rust and UV damage from bad weather which could weaken the frame and pose safety risks over time.
The top of the ladder that connects to the frame also uses a hook design, that makes it easily removable for limiting trampoline access.
Pros
Three wide steps that are easy on feet
Bottom stability bar
Powder coated to prevent UV or rust damage
Easy to assemble
Fits round and square trampolines, as well as other JumpSport products
Cons
The foam on the frame handles can be slippery when wet
Upper Bounce uses a simple, robust design for their 42-Inch Trampoline Ladder 3 Steps model.
The frame and steps are both made with heavy duty, powder coated steel that looks sleek and is very strong. Plus, it's weather and UV resistant, and won't rust. The feet and hook that connects to the frame are encased in rubber.
As the name clearly states – it's a 3 step model. The benefit of 3 steps is mainly for younger children, to give them an easier first step.
Although, I personally think this is the most sturdy of the bunch, and it can easily hold most children as well as results.
Oddly enough, the steps are made of the same powder coated steel. This is good because they're extra supportive, but they're also much slippier than rubber steps.
Pros
Very sturdy
Powdercoating for long life outdoors
Fits round or square shaped trampolines
Sleek design
Cons
Steel feet are slippery when wet
Too long for some medium sized trampolines
The final trampoline ladder in the guide, the SkyBound Trampoline Ladder, has a few features that separate it from the rest of my list.
First, it's stainless steel, which is strong yet light enough for kids and young adults to maneuver.
Like some of the others, it is powder coated, but the SkyBound Trampoline Ladder has a matte finish.
The powder coating also protects the ladder from rust and corrosion.
The other feature is the 'honeycomb' style steps. The unique honeycomb pattern helps distribute weight evenly across the entire step, increasing stability.
The steps themselves are made from thick, heavy duty plastic. The combination creates a stable platform for easy access to your trampoline. The holes that form the honeycomb pattern help prevent any dirt or water from getting trapped in any cracks or crevices.
Pros
Stainless steel frame
Attractive matte finish
Powder coated for rust and corrosion prevention
Thick plastic honeycomb steps
Cons
Assembly can be time-consuming
Frame hooks occasionally slip
What to Look for When Buying a Trampoline Ladder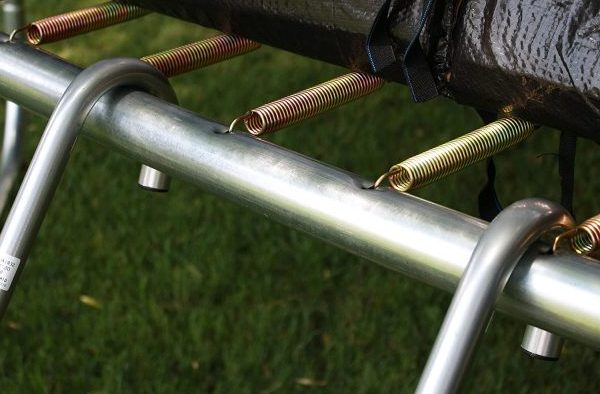 Just like choosing a trampoline, there are multiple factors at play when choosing a trampoline ladder. When I made this guide, I used a few different criteria to devise the rankings. Here is everything to consider:
Your Trampoline
First and foremost, the ladder has to fit your trampoline. I mean, it doesn't matter how beautiful, sturdy and easy to build it is if it doesn't fit properly. That means the ladder size should correspond with the trampoline size.
The ladders included in this guide are for full size, outdoor trampolines. You obviously wouldn't use them on an indoor mini trampoline. If the ladder is too big or too small, it poses a safety risk. It's important that the ladder can firmly connect to the frame while resting comfortably on the ground.
2 or 3 Steps
The vast majority of trampoline ladders come with 2 or 3 steps. Having the third step is good for younger children who might have trouble climbing up and down the ladder with confidence. On the flip side, an additional step adds more weight. That also increases stability and should limit the ladder sliding too much. For bigger kids or those who want the extra leg room, 2-step ladders will work just fine.
Build Quality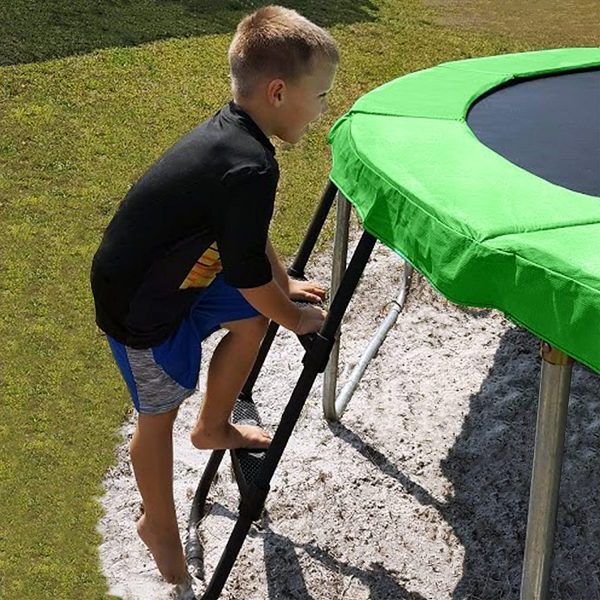 The materials used are also important. The best trampoline ladders (like the ones reviewed in my guide) are powder coated or weather-treated to resist UV and water damage. Not only does this keep the ladder looking nice, but it's for safety as well.
Over time, corrosion or rust could damage the structural integrity of the ladder if it were not properly treated. This also applies to the steps on the ladder. The steps should be sturdy, easy on the feet, and preferably non-slip.
Assembly
While not a main factor in my personal decisions, the differences in assembly between each trampoline model is noteworthy. Just like trampolines themselves, some ladders come nearly pre-assembled. Some come in many pieces and require a tool or two to get the job done.
Minor assembly can be a fun way to get your child involved in the process, too, by having them join and help with the building. Both types of ladders, pre-assembled and those needing assembly, are equally as stable and supportive.
Final Verdict
As the guide above shows, there are many options available to you when choosing a ladder for your trampoline. They all can do a good job of increasing safety. It comes down to your trampoline, your children, and your personal style preference.