Trampoline is one of the best ways to keep children occupied and have fun throughout the year. Trampolines come in various designs, shapes, colors, tension, size and safety features. Selecting a perfect choice is a hectic process that requires some serious considerations.
One of the most important factors to known is when best to choose between an in-ground trampoline vs above ground trampoline.
In ground trampoline has many advantages for your children. From aesthetic to performance and safety, it suits all children ages.
Safety
If your kids are younger, consider an in-ground trampoline for their safety. That is because the ground is low and reduces the fall risk. You can think of investing in an in-ground trampoline since smaller children are less scared of falling few feet above the ground surface. The safer position eliminates any doubts if anything were to happen and they fall on the ground.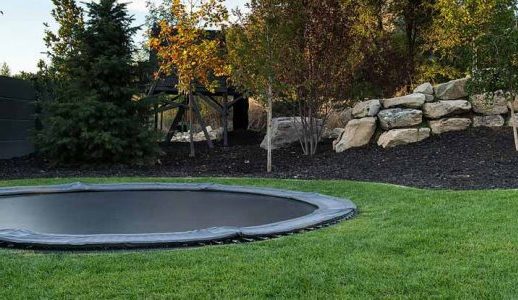 On the aesthetics factor, an in-ground trampoline is considered a better model. To enhance the installation of the in-ground trampoline, invest in an enclosure. However, for an above-ground trampoline option, avoid the enclosure as it will stick out above the fence.
The in-ground trampoline can further be enhanced with an all-around design by placing lawn tables and chairs for keeping an eye on kids. It reduces the strain on the neck as you try to watch them above the ground model.
What to avoid and what to include when installing a trampoline?
The in-ground trampoline seems like perfect fun for your children but has its downsides that require improvements.
As far as the backyard arrangement is concerned, ensure that you have a particular section assigned for your in-ground trampoline to avoid future inconveniences. The in-ground trampoline is stuck in the same place, unlike the above the ground which is mobile in your yard.
A closer look and comparison of the in-ground trampoline vs above ground trampoline, you will also notice that the in-ground model has potential problems related to performance and maintenance.
For the upkeep, it will require you to have a proper drainage system. It is crucial to avoid rust due to standing water in contact with the metallic parts of the trampoline. It may cost you more when installing the additional surrounding material.
The in-ground trampolines are easy to use. Kids find it difficult jumping on what is suitable for them. It is much simpler to get injured on the trampoline. Check with your children to ensure that you install what is best for them. Keeping in mind that play and fun are all you want to achieve, let it be easier, simple and comfortable for the children.
If your budget is tight and you are looking for a faster way for your kids to have fun and have low maintenance costs, then the ground trampolines will do for you.
The above-ground trampoline is easier to move or put away once your child has grown and no longer needs it. On the other hand, the in-ground will cost you time to remove and leave your compound rugged.
Benefits to In-Ground Trampolines
There are a number of benefits to an in-ground trampoline.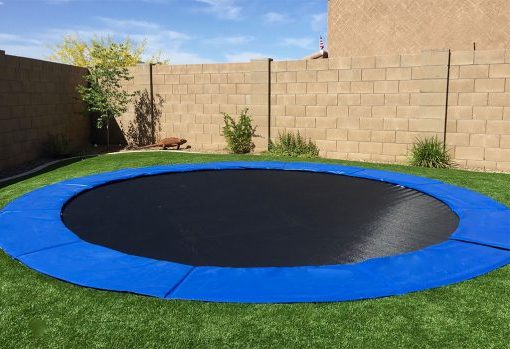 For one, it's a lot easier for small children or older adults to get into and out of. While you can add step stools and stairs to most above-ground ones, it still requires a fair amount of climbing and can be especially difficult when somebody is already bouncing on the mat.
Secondly, there are a number of decorative ideas that are not available to above-ground trampolines which can make your rebounder into an integral part of your backyard landscaping. While above-ground models are not completely incapable of being decorative, the in-ground ones open themselves up to more options.
There are several other advantages as well, but many of them are aesthetic or up to personal preference.
In-Ground Trampoline Wrap Up
The truth is, in-ground trampolines are difficult to install and maintain. They don't necessarily have the benefits that they are reputed to and the one arguable point, that they are less intrusive on a yard, can be countered with hundreds of examples of backyard trampolines that have been decorated to match the decor beautifully.
If, however, you do want an in-ground trampoline, make sure that you make the effort to install it properly and take the same safety precautions that you would with an above-ground model.
Conclusion
Looking at in-ground trampoline vs above-ground trampoline, it gets difficult choosing and installing the right trampoline for your kids.
Both types have their advantages and disadvantages. What suits you best will not work for another. Your compound, budget, and child age are some of the factors that will determine what to install.
The above tips and tricks will act as the guide and ease your trampoline installation process. The in-ground trampoline has more advantages but tends to be fixed. On the other hand, above the ground trampoline requires more space, causes accidents more often, but has all the mobility advantage expected. All in all, your child's safety as they have fun should be the priority.