Today, trampolines function both as a fun generator and exercise area. Children and adults spend quality time on the trampoline as it aids weight loss and improves mobility and stamina. Much more when your trampoline comes with an enclosure to keep you safe from any injury.
Trampolines have become more significant for kids who are still trying to develop balance and strengthen their muscles. For adults, trampolines are significant while learning various jump or bounce styles. Regardless of age, this Ultega Trampoline Jumper is a great pick for the ultimate trampoline experience.
The Ultega trampoline is a great trampoline with a variety of safety features, including a UV-protected net and rust-free springs. It has a long warranty period of 3 years.
It has a galvanized steel frame, which makes it more durable and tougher than other models on the market. It's also weatherproof, so you don't have to worry about how bad weather conditions will affect your skydiving experience. I can leave it outdoors without having to worry about rust or damage from the elements.
Features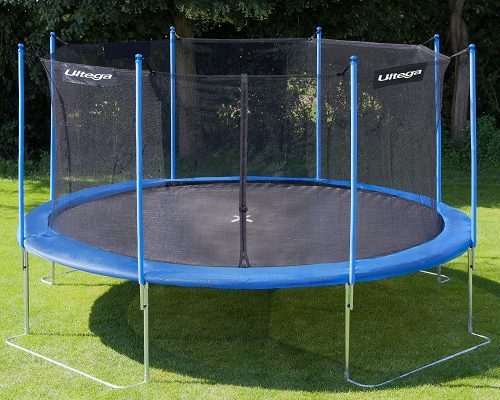 1. Dimension
The Ultega trampoline jumper comes in five different sizes that include the more popular 10ft, 12 ft, and 14ft.
2. Capacity
This trampoline has a capacity of 200lbs.
3. Age of kid using
Anyone can enjoy jumping or bouncing on the trampoline except kids under three years of age.
4. Galvanized steel frame
The frames used to make this trampoline are sturdy, durable, and rust-resistant.
5. Easy to assemble or disassemble
The design of this trampoline is specifically tailored to ensure effortless assembling and disassembling hence making this trampoline very user-friendly. The assembly of the trampoline takes only hours, it is so simple that you will be able to do it without any problems.
6. Rust-resistant springs
All the springs in the Ultega Trampoline Jumper Safety net are made from galvanized steel that is rust-resistant. It ensures that the springs are long lasting and have unsurpassed stability to ensure the safety of your kids.
7. Eight padded poles
This design ensures that the trampoline is not only stables but also extremely bouncy making it an ideal product for kids' fun.
What We Like
Stable
You do not just simply stand on the trampoline. You are up there for some bouncing and jumping.
The safety of a trampoline begins from its foundation. Having a strong foundation for the trampoline means stability or sturdiness.
The least that you want from your trampoline is that it lifts off the ground when jumping or bouncing over.
This Ultega trampoline features galvanized steel frame and legs to support the 200 lbs weight capacity.
Safe
Aside from stability, this trampoline is made even safer with its galvanized stainless steel springs that attach the mat and frame together.
No worries because the springs are well covered by padding to prevent hands or feet injury. Ideal for outdoor use, the trampoline is secured by a safety net around it and padded poles to protect the user from impacts.
Durable
Speaking of the enclosure net, you can expect longevity since it is made from high quality materials. The manufacturer uses polyethylene for the net, while the jumping mat is UV resistant so it can endure even extremely hot weather conditions. Moreover, because it uses galvanized springs, it minimizes the wear and tear of the trampoline.
Roomy
Another advantage of this trampoline is that its enclosure net surrounds not only the jumping mat but the entire trampoline giving you more room to jump on. This is helpful for parents who want to accompany their little kids inside.
What We Don't Like
One disadvantage of this trampoline is that you may not use it inside the house when winter comes. Aside from the manufacturer's note about the trampoline solely for outdoor use, larger trampolines may not fit in limited space inside the house. Another usual complaint among trampoline reviewers is the way the instruction was written. Nevertheless, since assembly is easy to figure out, your family can enjoy it in no time.
Customer Reviews
Many consumers are impressed with the intricate padding of this trampoline, which helps keep jumpers safe. Nothing beats giving kids the feeling of safe fun equipment that makes them smile (and keeps them active).
One of the complaints I encountered after completing my review was how easily the netting wore out. However, after further research, I realized that this was not a common problem as many customers attested that they had been using this trampoline for over a year without this issue.
The overwhelmingly positive reviews from many customers made it easy for me to recommend this trampoline. If you are looking for a safe product that is durable, practical, and kid friendly, then this trampoline is the ideal choice for you.
Conclusion
The Ultega trampoline jump is a great, safe way for young kids to exercise and play safely in their own backyard. The product is made by the same company that makes the popular Skywalker trampoline, so you know you're getting a quality product.
The Ultega trampoline jumper is designed for children, but it can also be used by adults and older children who may want to use it for fun. It is not designed for bouncing games such as basketball or volleyball.
While this trampoline may seem large to some, it actually fits into an area of about 15 square feet and can easily be stored in a small shed – taking up less than a cubic foot of space. If you choose to store it outside, keep in mind that it's an all-weather trampoline, so it can still be used when the weather is inclement and you don't want to go outside to play.
Ultega Trampoline Jumper with Safety Net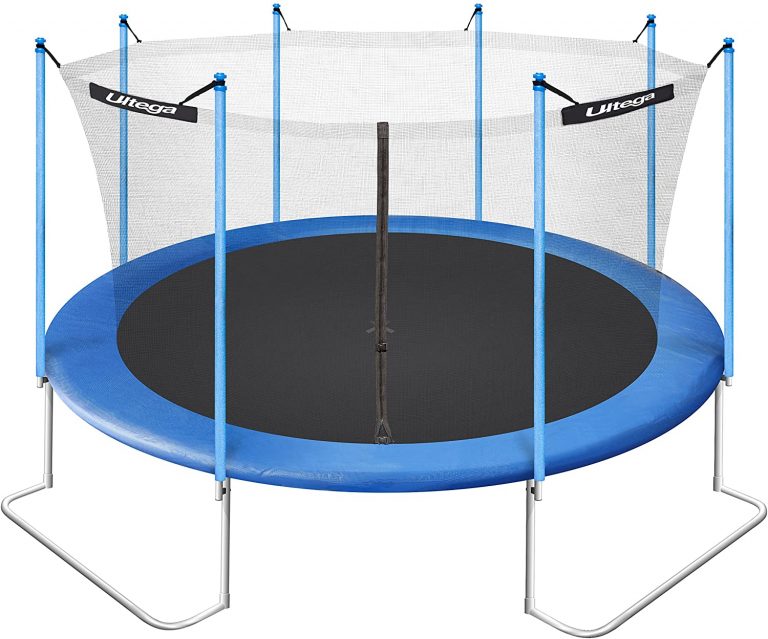 Product Description: The Ultega trampoline is a great choice for kids and adults. It features an innovative safety netting system, making it safer than other trampolines on the market.
Quality

Performance

Affordability

Fitness

Durabilty
Pros
Great customer service
2 year warranty for both frame and parts
Extremely high weight capacity
Cons
More expensive than Skywalker but similar specs