Trampolines are some of the best things for your kids because it provides hours of fun in your backyard. However, no matter how expensive and high quality your equipment is, it will still need some replacement parts and repairs at some point.
This shouldn't be a bad thing, as it's better to replace parts than to throw away the entire unit after a few years of use.
Springs are often the first part of an old trampoline to break down. This is especially true if you've been using the trampoline with your kids ignoring the weight limit. If the springs are stretched too far, they tend to lose their tension, making it impossible to pull the jumpers tight enough to provide a good bounce.
As they are made of metal, the fact that they're left outside and exposed to the elements are also factors that shorten their lifespans. If they weren't made of high-quality materials and treatments, they willrustand corrode which will render yourtrampoline too dangerousto use.
Luckily, replacing trampoline springs isn't that hard to do. There are lots of products available online so you won't have to spend hours scouring your local stores and the internet to find a good set for your unit. Most large trampolines tend to use the 7-inch varieties, but you can also find other sizes with ease.
How to Measure Trampoline Spring
Trampoline springs are easy to measure. You don't need to be an expert to measure them. Simply put, remove 2 or 3 springs from the trampoline. Before measuring, make sure that all 3 springs are not in tension.
Take a tape measure and put it on the trampoline spring. Measure the spring from one end to the other, including the hooks at both ends. Measure all 3 springs and calculate their average value. The average size of the three springs should be the size of the trampoline spring.
Top 4 Trampoline Springs Reviews
If you're already searching for some trampoline springs to replace your old ones, here are four options you can check out.
PARTYSAVING 7″ Trampoline Spring Galvanized Steel
There are a few things you need to consider when searching for replacement springs for your trampoline. The first one is its material. Galvanized steel offers more durability than other kinds of metals, so you need to only opt for those. The next is the size because trampolines have specific measurements. If the springs you intend to buy are bigger than what your trampoline has right now, they won't be able to pull your jumping mat taut.
Another important consideration is the springs' shape. Dual tapered springs are highly recommended because they're stronger than straight springs and they offer better lateral stability.
All of these things can be found in this set from PartySaving. Their 7" trampoline springs will be a perfect fit for most large-sized trampolines and will be able to bring back the great bounce your trampoline used to have.
Weatherproof and equipped with an all-new advanced tension mechanism, this product is one of the best options available for replacement springs.
Pros
It's actually more affordable than other options.
With a dual tapered shape, it's more durable and capable of offering a great bounce.
It comes with a spring loading tool to make assembly easier.
Its 7" size makes it compatible with most large trampolines.
Cons
It's still quite pricey, despite being one of the most affordable options.
SkyBound Trampoline Springs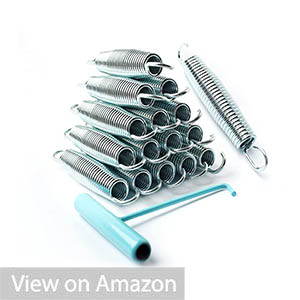 If you own a SkyBound trampoline, it's just natural to turn to the manufacturer for replacement parts, right? This makes the SkyBound Trampoline Springs a big hit because it is specifically made for the products of the brand but it's also compatible with other models made by different manufacturers.
The fact that it is crafted by a company that knows how to make trampolines is a great plus, though. This helps you know that their replacement part products are actually made for the task at hand, so there shouldn't be any doubts about the quality and its ability to perform.
Available in different sizes, you can choose between Gold Premium or Silver Standard springs to replace your old ones with. The Gold Premium variety has yellow zinc plating that guarantees better protection against wet and humid environments, making them the more expensive options available. Dual tapered and made of heavy-duty steel, these springs are available in packs of 10 and 15.
Pros
If you don't need to replace all the springs in one go, this can be a practical option.
You have the option to go for premium springs if you need more weatherproof replacement parts.
Different sizes are available so you can easily find a good match for your trampoline.
Each spring is crafted with quality materials and workmanship.
Cons
There's no spring loading tool included in the package.
You'll need to remember that each pack only has 10 or 15 springs, so if you need more, you need to purchase multiple packs.
Trampoline Spring Replacement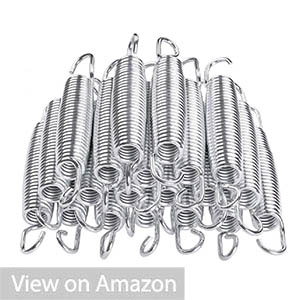 Smaller trampolines tend to use smaller springs, but it doesn't mean that you should settle for anything less if your trampoline is only for your kids' use. In fact, you should look for more heavy-duty springs for these products to ensure your little one's safety.
In this case, Koval's Trampoline Spring Replacement is a product worth looking into. These measure 5.5", making them suitable for 10' trampolines. Made of heavy-duty galvanized steel, these replacement parts are also cold weather crack-resistant, so you don't have to worry about having to get new ones every time spring comes around.
Each pack comes with 20 high tension and durable springs. Each is dual tapered so they guarantee a great bounce and high strength.
Pros
They're great for smaller trampolines.
It can withstand cold climates.
They're very durable.
Made with high-quality materials, you can expect these springs to last a while, even with heavy use of your trampoline.
Cons
No spring loading tool included.
They're a bit pricier than other alternatives.
Heavy-Duty Galvanized Steel Replacement Trampoline Springs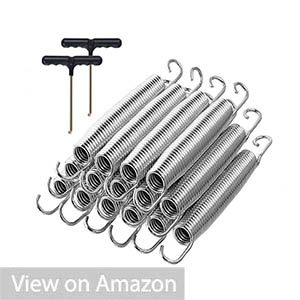 For those in search of trampoline springs at the lowest prices, the GC Global Direct Heavy-Duty Galvanized Steel Replacement Trampoline Springs is a good option you should check out. As they are available in three sizes (5", 7", and 8.5"), they might just be the very replacement parts you've been looking for.
Made with high-quality galvanized steel, these springs are weather-resistant, rust proof, and won't crack even at low temperatures. They're designed to withstand the harsh outdoor elements and still provide a great bounce. Each pack comes with 20 pieces, so you don't have to spend too much if you only have to replace a few worn out springs in your trampoline.
Pros
They're durable and won't easily break or corrode.
Available in different measurements, they can suit various trampoline models and sizes.
They're very affordable.
They come in sets of 20, so if you only need to replace a few, you're not stuck with a lot of extras.
Cons
This pack doesn't come with a tool to install the springs with.
5 Tips for Choosing the Right Trampoline Spring
A trampoline spring can be a vital part of the trampoline. A broken spring can be a major setback for your fun and enjoyment. If you are having a hard time finding the right spring, check out these tips for selecting the right one for your needs.
TIP1 – Do not wait until spring breaks before you replace it. This is an important safety tip and will help to prevent accidents from happening.
TIP2 – Make sure that you have the right measurements of your springs when purchasing them. Each will have different lengths and strengths, so make sure that you know what size you need before buying.
TIP3 – Know springs are often made of steel, carbon steel or galvanized steel. They also come in different thicknesses, so make sure that you know what you need before you buy them.
TIP4 – When choosing a spring, make sure that it is not too heavy for your trampoline frame. The weight of the spring and how much pressure it is able to handle will depend on the material that it is made out of as well as its length and size.
TIP5 – Check to see if your springs will leave marks on the ground around where they connect to the frame.
Final Verdict
If you own a trampoline, you should be ready to replace its parts after a while. Replacing your unit's old springs can breathe a new life to your old trampoline. It's also a great way to ensure the safety of the unit, so you can continue to use it without any worries.
If you have even just one bad spring, you must replace it right away. Experts even suggest replacing trampoline springs as a set for even wear, but this may prove to be too expensive for some. Switching to a new spring as needed is okay, just make sure to pick the best products available.
The four mentioned above are fantastic options if you don't want to worry too much about your old trampoline anymore.