Having a 12-foot trampoline in the backyard is great fun for families with kids, and the 12-foot diameter is plenty. It's not too big for most backyards, but it's big enough to provide lots of elbow room for kids to jump.
When you are considering the best trampoline to buy, it is important to check the available space in your backyard. Keep in mind that when installed, the trampoline needs to have a clearance area of at least 2 feet in all directions. For example, if you want to buy a 12-foot round trampoline, you must have 16 feet by 16 feet of open space in your backyard.
What to Consider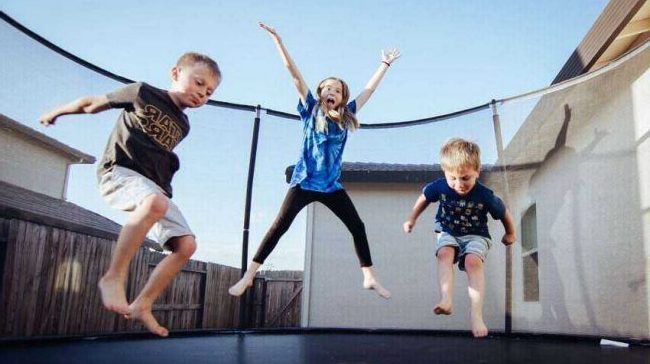 There are numerous options for trampolines out there to make it seem like a difficult choice, but which are the best 12 foot Round Trampolines? In this article, I'll go over a few factors you should consider before buying.
1. Available Space
First, you should measure the available space in your yard to see what size trampoline is best for you. For example, if you only have a 24 foot backyard, you might want a 12 foot trampoline instead of a 15 foot trampoline. You may not want all your free space to be occupied by trampolines, or even most of your free space to be occupied by trampolines.
2. Construction
You should also make sure that the trampoline is well-built so that you know your trampoline won't collapse while children are jumping on it. There shouldn't be any parts on the jumping surface that can let through limbs.
3. Price
As a parent, you will need to check the price. At least even good ones don't have to cost too much. There are excellent trampolines that only cost a few dollars over $200, although some of the best ones may go for more than a grand.
4. Weight Limit
If older kids will be using it, they shouldn't exceed the indicated weight that the trampoline can support. Kids should only use the trampoline one at a time for safety reasons, even if the combined weight of 2 kids don't go past the maximum weight limit.
5. Safety
Of course, with kids and trampolines safety will be a crucial issue. That's why you must always get a trampoline with a safety enclosure. Then you need safety pads on the edges just to be on the safe side.
Top Five 12 foot Trampoline
Here are some of the best 12-foot trampolines around, in terms of safety, ease of assembly, build quality, durability, price, and overall fun.
1.
Skywalker Trampolines 12-Feet Round Trampoline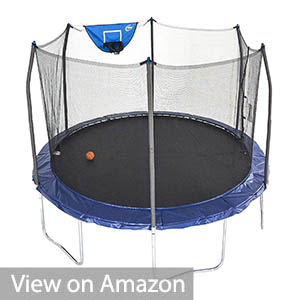 This is designed especially for kids, as the jumps they can make aren't dangerously high. It's not really meant for large adults.
But they are fun for kids, and the safety enclosure makes sure it stays that way. They curve inwards a little bit, and that helps encourage kids to stay in the middle of the mat and away from the frame. The springs are padded, and more importantly they're located outside the netting.
The frame is quite robust and made from heavy galvanized steel. The frame and the poles are all padded as well. The design also doesn't involve threaded ropes, so there are no gaps in the jumping surface where legs can go through.
It's easy enough to secure the 6 wide legs to the ground so the wind won't blow it away. The trampoline also uses UV-resistant materials so that they don't degrade under constant exposure to harsh sunlight.
The assembly isn't really difficult and it shouldn't be a frustrating experience. If there's a problem with the parts, the customer support is excellent.
2.

Bounce Master 12′ Foot Trampoline
This 12 foot trampoline has a safety netting enclosure and a weight limit of 200 pounds. When it first came out, plenty of people were frustrated with how unclear the direction were for the assembly, so you should read up on reviews that offer tips on how to set this up properly and without difficulty.
Once you have this assembled, it's a joy for kids. It's also a relief for you that the legs of the trampoline offer great stability and the safety netting works properly. The springs are coated with zinc so you won't have to worry about corrosion even when it rains.
The jumping mat is especially durable and heavy-duty, so it can support a kid with no problem. In fact, this mat is designed expressly for outdoor use. It's UV-resistant and doesn't fade much from sunlight. It's waterproof too.
This kind of durability can also be found on the padding that covers the safety net poles and the trampoline frame. So you get maximum foam protection for your kids, and these pads are waterproof too.
3.
Upper Bounce Trampoline and Enclosure Set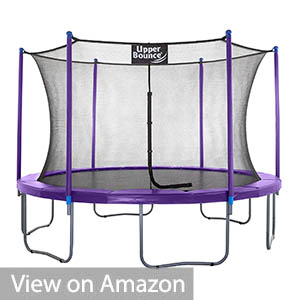 Now if you have especially hefty kids or if you yourself want touse the trampoline, then this Upper Bounce is what you should get. Forget the usual 200-pound limit, as here you have a capacity of up to 330 pounds. Just about everything here is for heavy duty use.
It's quite easy to assemble, as the instructions are easy to understand and you have the tools for assembly included in your purchase. Then when you take it apart for the winter season storage, you won't need tools for the disassembly.
This is especially bouncy because of the heavy-duty springs, and these springs are resistant to rusting and cracking from the cold. The foam used for the safety pads is extremely thick and shock-absorbent.
The nets are excellent, as they feature no gaps and the edges are reinforced with double material. They attach to the edge of the jumping mat instead of to the frame. This means that the springs that can cause injury when you land on them are located outside the net, and you won't land on those springs at all.
4.
Ultega Jumper Trampoline with Safety Net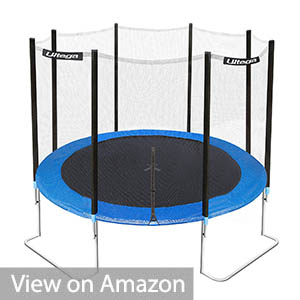 This 12 foot trampoline is a good-looking trampoline, with the springs covered by a distinctive skirt of foam padding so that you know where you should land on the jumping mat. Even if there's a mistake in the landing though, the foam padding covers the springs so you don't have dangerous holes.
It's also great when you have little kids who may be tempted to use it when you're not around. The jumping mat is 35 inches from the ground so kids can't easily climb up, and the entrance in the safety net can be secured so kids can't get in.
This is a solid piece of work, and the legs offer terrific stability. It can withstand strong winds even when you don't stake it down. That's due to how the legs flare outwards a bit, so that it actually occupies a diameter of about 13 feet.
The netting is quite tall at 6 feet, so you don't have to fear that your kids may jump too high and over the netting. The assembly is also quite easy. The durability of the materials is first-rate, and the customer support is terrific.
5.
JumpSport Elite 12′ Trampoline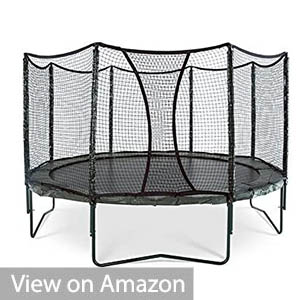 Unlike the other trampolines on this list, the JumpSport is a bit expensive. It costs about 4 times that of the others, but then the price is justified by the excellent quality of the trampoline.
JumpSport builds their trampolines to last for many years, as the materials used are all rated for heavy duty. This is meant to withstand rain and sunlight with no resultingmaterial degradation. It's much more durable than more affordable trampolines that last only 2.5 years or so.
This emphasis on high quality ensures that the safety features such as the nets work perfectly. The net even overlaps at the entry section so that there are no weak spots in the enclosure. Thick safety padding is everywhere, as you have them covering the springs, poles, and frame. Even the jumping surface is more forgiving, so that you're less likely to get injured when you jump.
The design of the trampoline even takes ease of assembly into account. It will need 2 people and about 4 hours, but it shouldn't be frustrating for you.
Is a 12 Foot Trampoline Big Enough?
The 12 foot trampoline is smaller than the 15 foot trampoline, but it is suitable for those who don't have enough space for the 15 foot trampoline, and don't want to buy a 10 foot or 8-foot trampoline. Neither too big nor too small, the 12 foot trampoline is a perfect medium-sized backyard trampoline.
The weight capacity of the 12 foot trampoline will be lower than that of the 15 foot trampoline. In addition, if you are worried about the weight capacity, you may want to consider using a rectangular trampoline because it has a higher capacity.
A 12 foot trampoline has a jumping surface of about 10.3 or 10.4 inches. Such a large game area is enough for two children to play at the same time, and enough for one child and one adult to play together. So it's big enough for two children to jump together, and its enclosure net can protect children while they play.
Once you take all this into consideration, it's much easier to choose the right trampoline to meet your needs. We hope this helps and keeps us safe!
FAQS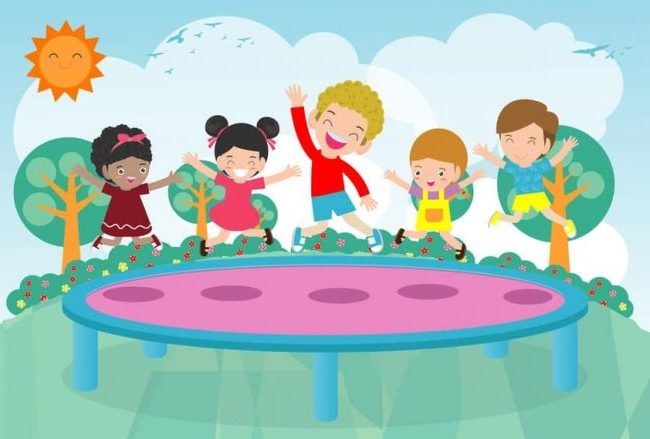 What is the weight limit on a 12 ft trampoline?
The weight of the 12 foot trampoline is limited to 250-300 pounds. Because it is big enough to accommodate older children and adults. However, the weight limit of the trampoline will also depend on the shape. The round trampoline can bear 200 pounds, while the square trampoline can bear 300 pounds.
Is a 12 foot trampoline too small?
The 12 foot trampoline is medium-sized. It is neither too big nor too small.
How much space does a 12 foot trampoline need?
Your backyard needs at least 16 × 16 feet of space to build a 12 foot trampoline. Because trampolines need at least 2 feet of clearance in all directions.
What is the weight limit on a 12 ft trampoline?
A 12-foot trampoline should be able to safely support up to 200 pounds. If you have older children, you may want to purchase a larger trampoline. However, you should always follow the weight requirements as this will reduce the risk of injury and ensure that all your family members can have fun on the trampoline without danger lurking.
How much does a 12ft trampoline cost?
A 12-foot trampoline will set you back about $200-300, but there are cheaper models available if your budget doesn't stretch that far. The price depends a lot on the number of people using it, so if you're buying for a family, you need to take that into account.
Tip: Cheap, low-quality trampolines often include a limited warranty or no warranty at all, so check before you buy to avoid disappointment.
How many kids can jump on a 12 trampoline?
Generally, no more than three children at a time. For one child, that's about 8 square feet. Two children consume about 15 square feet of space, and three children use about 20 square feet of space. This does not include the space needed for adult supervision of jumping or diving activities, so it is best to keep adults away from children when they are jumping on a 12-foot trampoline.
Conclusion
The 12-foot trampoline is a great option for users who want a big trampoline in their backyard. These trampolines are more expensive than the smaller ones, but they make up for it in size and quality. If you want to make sure this is the right one for you, make sure you've considered all of its features before you buy. Do you like the 12 foot trampoline?