If you are looking for a trampoline that is both economical and quality, then Skywalker's 12′ round trampoline is the ideal product.
From my personal experience, I can say that the manufacturer did not sacrifice quality, it is a great product and also not very expensive and easily fits into your budget. This 12 foot trampoline is a full size product, but its compact size allows it to easily fit in any backyard.
The Skywalker 12 foot round trampoline review will give you all the reasons to keep the trampoline in your backyard, no matter the size of your backyard.
Skywalker 12 Feet Round Trampoline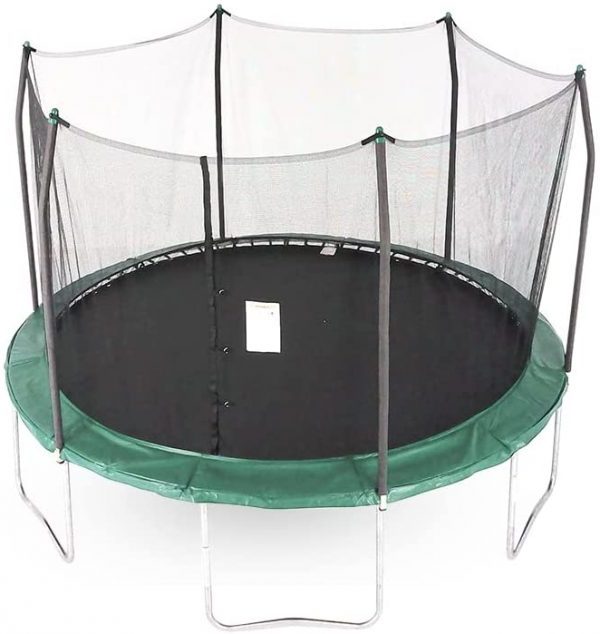 Now it's time to bring back all the fun and excitement to your backyard with this amazing product from Skywalker.
This 12 ft. Round Trampoline comes with an enclosure. This trampoline is a great size for all kinds of jumpers, and it comes with new safety features. Its galvanized steel frame is quite heavy duty and will allow families to enjoy years of jumping fun without any safety related issues. Its T-socket is reinforced and welded, thus ensuring that the trampoline's frame is perfectly anchored to the enclosure frame.
To increase the stability of the bounce, there are a total of six W-shaped legs. The design of the enclosure net is fixed and button-hole type. This helps to interlock the fence's net with the bouncer. It stays away from the frame and springs and helps to create an amazing jumping environment without any gaps, lines or ropes.
Material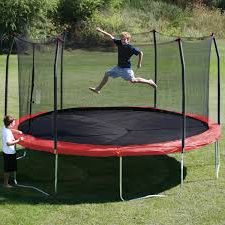 The enclosure frame allows the suspension of the netting efficiently away from the frame. For added protection, it is padded with very soft foam. You need not worry about the materials as all of them are made up of optimum quality, UV resistant and highly durable in nature.
You can easily say that this model of the trampoline is perfectly safe for your kids because of its highly durable frame, spring pads, button-hole design and reinforced t-sockets.
And if you have small children the feature of the enclosure prevents them from facing any incident of falling off the trampoline. The enclosure has an amazing feature of a zipper which will prevent your young children from falling and allow them to stay safely inside while they are playing.
The heavy duty allows even your teenage children to enjoy a lot of fun jumping. The 6 W-shaped legs of the trampoline amazingly add to its extra stability. But you need to be careful about the weight limit of 200-lbs. This means that at a time only a child and adult can jump on it.
Easy Installation
With the help of Skywalker trampolines 12-feet round trampoline and enclosure with spring pad instructions, it can be installed very easily.The 12-foot trampoline can be set up very conveniently without any hassles. The instructions may appear to be a little confusing, but if you read them thoroughly, it will be rather simple to put the trampoline together.
The hardest part regarding the entire process of assembling is to attach the jumping mat and enclosure with the help of the springs to the trampoline. So make it a point to read the instructions carefully before you begin the installation.
Its sturdy nature also allows the adults to jump with the kids on the trampoline. The best part is that it is easily able to withstand extreme weather conditions as it is designed by experts for lasting real long.
Specifications of this trampoline model:
Shipping Size of 46 X 20 X 18 Inches, 148 Lbs and needs two boxes for shipping.
Max Weight of 200 lbs.
Features which are seen with this trampoline model:
6 Legs are W-Shaped and these are perfect for the much needed extra stability.
72 count, rust resistant springs.
Available in a variety of colors: Green, Red and Blue.
Has locking T-Socket construction and this is of great help in preventing frame twisting.
Skywalker trampolines 12-feet round trampoline and enclosure with spring pad is UV Protected and also has foam padding of 1″ thickness.
It also features few patented technologies. For instance, the weld T-bracket which effectively eliminates the twisting of the frame twisting and provides strength to every frame joint.
The jumping mat that is made of polypropylene which is UV-protected and effectively prevents slipping.
Let's have a quick look at the pros and cons so that you can make the final selection after considering all the aspects.
My Take on the Model:
This 12 foot Round Trampoline from Skywalker comes with Safety Enclosure. It is a great product as far as the fun part and price is concerned. It is generally considered safe for most children and helps in effectively keeping them away from computers and video games. This is a fun activity that has a major role to play in making kids fit and promoting healthy lifestyles.
Summary
The Skywalker 12′ Round is one of the most popular trampolines. Even if you have a small backyard, due to its small size it can fit well. Thus, perfect for all and it gets a big thumbs up from my side.
Skywalker 12′ Round Trampoline Review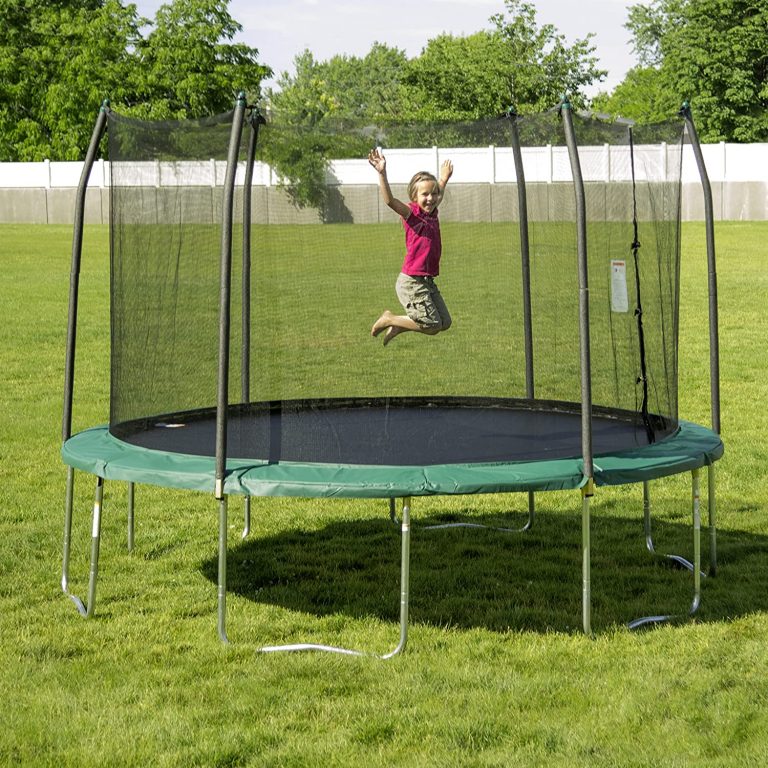 Product Description: Add bouncing fun to your backyard with Skywalker Trampolines 12 ft. round trampoline with enclosure. It is optimum for jumpers of all ages and sizes. With innovative features.
Quality

Performance

Affordability

Fitness

Durabilty
Summary
With Heavy Galvanized steel frame, UV resistant materials, there is no reason of you not buying this model from Skywalker. Skywalker 12′ Round Trampoline will definitely be a great addition in your home.
Pros
This model is very popular because of its cost-effective nature.
The size of the product is also very compact which adds to its popularity.
It has a diameter of 12′ which makes it is very convenient to fit it in the backyard.
It is quiet easy to assemble in comparison to other models of trampolines. You just need to keep few simple assembly tips in mind.
Cons
The bounce is less because of its round shape.
There are issues related to the frame injuries.
There are few of the buyers who have complained regarding the assembly.