An in ground trampoline is a trampoline that has a frameset below the ground's surface.
These trampolines have the same type of support that a typical model has, but because of the way they have been designed there is less chance you will fall off while on it.
Another difference has to do with its appearance as they are more attractive and pleasing to the eye. Some of these trampolines are meant specifically for use in ground, meaning they have components for it, while others are more DIY where you just lower it.
In Ground Trampoline Cost
In ground trampoline costs depend on the type you buy and what kind of installation you choose.
As was indicated above, there are two kinds: those that are designed specifically for lowering into the ground and others that you just lower into a pit or a hole in the ground.
If you're aiming for the former, you need to buy a trampoline that's been designed for that and comes with the appropriate parts. These trampolines come with stainless steel hardware, powder coated heavy duty frames and powerful springs.
They have UV ray protection and all the components necessary for installation, but most of them weigh several hundred pounds and require several people to set up.
However, the biggest issue here is the cost: these types of trampolines cost at least $2,000.
If you don't like the idea of spending that much money on a trampoline, you're better off with the DIY types where you just put it on the ground. They're less expensive, as the cost ranges from $600 to the high-end ones that cost around $1,000 and more.
What's even better is most are available at discounted rates online, so you save even more money.
What are the benefits of an In-Ground Trampoline?
General Safety
In ground trampoline products are much safer than your regular trampoline because they are closer to the ground. The standard trampoline is supported by legs, so the risk of falling and hitting the ground is there.
Since there is little to no distance between the ground and the mat on the in ground type, there is no need for an enclosure or safety net.
These types of trampolines are especially suited for children, and since the area below is not accessible to kids or pets, there is no reason to worry about any injuries or accidents, which is what parents want.
More Useful Garden
Trampolines are often an eyesore, the height of the netting, in-ground trampoline alleviates this as it is flush to your Kids have more room to move around with an in-ground trampoline and you don't have to keep looking at it.
In-ground trampolines are much more visually appealing in your garden and are almost unnoticeable in some cases. Even more importantly, it frees up space for children's games and offers them an opportunity to use their creativity, and physical ability without you standing outside the trampoline.
Ease of Maintenance
Maintaining an in-ground trampoline is easy, cover it when it's regularly raining to reduce the risk of damage. You don't need to dismantle or move for lawn mowing or tie-down in string winds.  Just cover in periods of high rain exposure, this can be done with a simple cover. Other families get more creative and have a decked area they place over it so the in-ground trampoline area is multi-functional for the family. An in-ground trampoline is that easy to maintain.
The kid's excitement and enthusiasm for trampolining are beautiful to watch, Imagine the satisfaction of having such a useful garden space you can stand back from while they bounce and jump the afternoon away.  The sizes available allow children of all ages to play safely and adults too!! Sinking your trampoline in-ground has so much potential.
Top Three In Ground Trampoline
Skywalker Trampolines 15-Feet Round Trampoline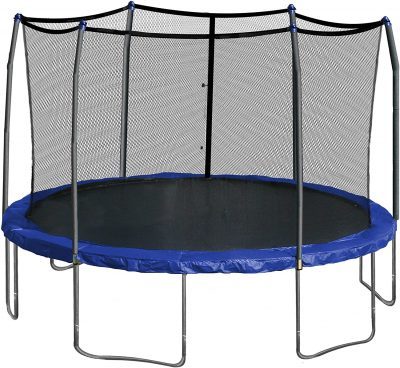 The Skywalker is fortified with T-sockets so even when it's used on a consistent basis, the structure remains stable and won't suffer any twisting or damage.
A closer look at the unit also shows that it is made of heavy duty resistant steel.
The addition of 6 W-shaped legs also goes far in terms of providing stability and durability. The maximum weight capacity is 200 lbs. yet a single, able-bodied person can move it.
Putting the trampoline together doesn't take too long either so that's another plus for this.
JumpSport Elite 14-Foot Trampoline with Enclosure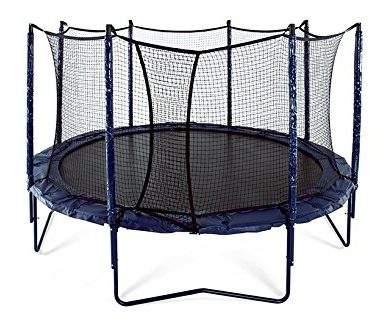 The JumpSport Elite has a thicker pipe compared to similar ones in its class, and the frame is more durable as well. Compared to other 12 foot trampolines, the Elite provides additional space for jumping so you don't have to worry about falling off.
Another notable feature here is the Integrated Safety enclosure as it provides extra protection.
In addition, the trampoline comes with the Easy Hang Enclosure System for simplified installation.
Like other JumpSport trampolines, the Elite uses the proprietary StagedBounce Technology so it is not going to break down even with constant use.
Skywalker Trampolines 15-Feet Jump N' Dunk Trampoline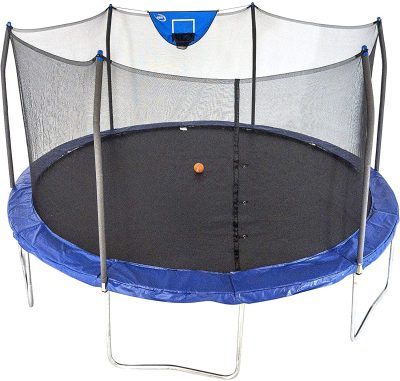 The Jump N Dunk has a unique Stay-Put enclosure design that gets rid of the gaps between the jumping surface and the net enclosure, as it connects the net at the V-ring spring clips.
With this safety design feature, you don't have to worry about a child's toes or fingers getting caught between them.
This also simplifies assembly and cuts down on the required maintenance.
The frame is constructed from galvanized steel and the sockets are rust resistant so you can be confident of its longevity.
Final Verdict
As you can see, the in ground trampoline is not like your typical trampoline and as such a lot of factors need to be considered.
With regards to the installation, the raised option is cheaper and better, but if you don't mind the expense and the time, the flush to the ground is more aesthetically pleasing to the eye.
As the reviews above indicate, they are designed for long term use and safe to use.