If you're interested in buying one of their trampolines but don't know where to start, this buyer's guide can help.
JumpSport has been making trampolines for nearly 20 years now, and while competition is tough, they've managed to stay ahead of the curve by continuously innovating without compromising safety.
First of all, trampolines offer severalhealth benefits, similar to what you get when you exercise. Second, this equipment offers lots of fun for kids and adults.
In addition, the JumpSport trampoline implements many features that make it safe to use.
JumpSport fitness trampoline is a high quality mini trampoline. Fitness trampolines have become synonymous with getting a good workout.
JumpSport has become a leader in this industry by providing individuals and gyms with a high quality bouncing experience. These mini trampolines are often found in gyms because they are high quality and last a long time. These exercise trampolines can withstand some rough use and keep ongoing.
JumpSport Fitness Trampolines Model 220 Vs 250
JumpSport The Fitness Trampoline Model 220
The Model 220 is a high quality trampoline that offers full functionality without compromising safety.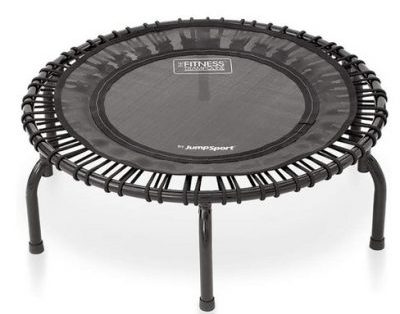 With a diameter frame measuring 39", it is one of the largest you'll come across, and the 30 EnduroLast 2 cords are built to last.
Here are its main features
The black frame is built for constant use. The trampoline also comes with a skirted mat that provides a cover for the connectors and the Enduro Last cords.
The 220 has a solid and high bounce, and the cords provide a smooth cushion.
When you bounce on the 220, the feeling you get is what a high quality trampoline should provide, a sense of buoyancy and lightness. The 220 also doesn't produce any of the harsh bouncing that is commonly felt when your body rebounds.
Bottom line:The model 220 makes it possible for you to perform different types of exercises on it, and thanks to the way the 220 has been designed it's convenient to store and can be used day or night. The unit also comes with a DVD showcasing the workouts you can do here.
Pros
Improves stability
Installing is easy
Bounces are high
The trampoline is large
Cons
Elastic cords could have been better designed
Only comes in one color
JumpSport Fitness Trampoline Model 250
The Model 250 has some features similar to the 220, most notably its 39" diameter frame. Both the frame and arched legs are in black, but unlike other trampolines it comes with fortified padded petals that go above the EnduroLife 2 cords.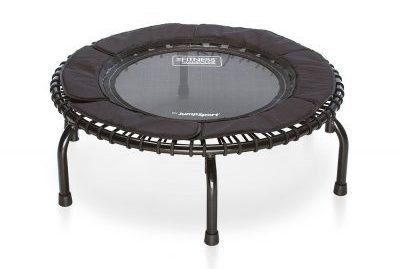 Basically what this means is you have greater freedom of movement and you won't suffer from the feeling of constriction that comes with other trampolines.
Main Features
The JumpSport 250 Fitness Trampoline provides excellent bounce for anyone looking for a quality mini trampoline that will last for years. This fitness trampoline is designed with EnduroLast 2 ropes. the EnduroLast 2 ropes provide a smooth bouncing experience with much less rigidity than mini trampolines that typically use steel springs.
The JumpSport 250 mini trampoline also incorporates JumpSport's patent-pending trampoline leg design. These legs are arched, rather than what you would normally see on a sports trampoline.
The arch design greatly increases the stability of the trampoline. Some mini trampolines can tip over if a jumper lands on the wrong side. The JumpSport 250 fitness trampoline does not have this problem due to the arched design of the legs.
Pros
Sturdy mini trampoline
Easy assembly
Very quiet
JumpSport Exercise Handle Bar for 39″ Arched Legged Fitness Trampoline
This handlebar is for those who want a greater degree of stability when jumping on a trampoline. Compatible with the JumpSport trampoline, the handlebar can be an effective tool in terms of improving your balance and coordination.
Here are its main features:
The handle is stable and provides plenty of support. The unit is also easy to assemble and works as well as advertised.
The handle provides several options for height adjustment. If you're a long time trampoline user the handlebar may not be necessary, but otherwise this can be of great value.
As many customers have pointed out, the handlebar provides a high degree of protection, and for those new to trampolines or older folks who need additional security, the handlebar is just what the doctor ordered.
The handlebar doesn't collapse, so you can't store this in a compact manner, but when you consider the benefits it offers this is still a good buy, for first timer users, kids and adults.
Pros
Very affordable
Improves your coordination and balance
Built to last
The handle is steady
Cons
The handlebar only works with a 39″ JumpSport Arched Legged Fitness trampoline
Design is very basic but works
Buying Guide – How to Choose JumpSport Trampoline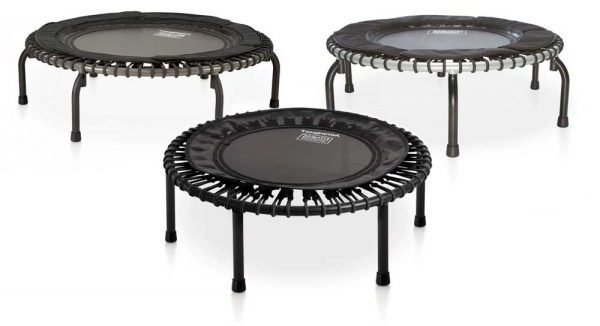 Studies have shown that bouncing on a trampoline is a great low-impact workout. This means that it can let you enjoy a physical activity that won't hurt your lower body joints. As a result, it made mini-rebounders quite popular and in demand.
If this is the very reason why you're now considering getting a JumpSport Trampoline, you might need some help in making a choice. With the wide range of options that the brand can offer, choosing can be an overwhelming task.
So how do you decide which JumpSport product is the best match for you? Here are a few things to consider:
Decide which type of trampoline you need.
JumpSport offers kiddie trampolines, backyard trampolines, and fitness trampolines so you have a good range of options. If you want to use this equipment to get in better shape, you can opt for both the backyard and fitness varieties.
Backyard trampolines offer more versatility while the fitness options don't require as much outdoor space. So if you just really need one for workouts, the latter can already be an excellent pick.
Take a look at the safety features.
No matter what kind of trampoline may it be that you're eyeing, it's still best to look for good safety features in them. This can guarantee that you're not putting yourself in serious danger by using such equipment for intense physical activities.
Is portability an important feature for you?
If you're getting a rebounder, another consideration that you should keep in mind is portability. There are a few JumpSport varieties that you can fold and lug around. So if you're just after a product that you can take with you on your rebounding classes, these varieties can come in handy.
Consider your budget.
With their quality construction, design, and functionality, it's easy to see why JumpSport Trampoline products are on the pricier end of the scale. While its performance is well worth the price tag, it might also require you to work with a budget. There are several affordable options, though, so you don't have to worry.
Read reviews.
Not because you're choosing from just a single brand does it mean that you can already skip reading reviews on your search. There are some instances that a single brand can have a couple of products with very similar features, so you might still want to be able to tell them apart. This way, you can be sure to pick out the best match for you.
Final Verdict
Based on price, the Model 220 is more affordable than the Model 250 by about $20 or so, but the Model 220 receives more reviews, despite the generally positive feedback on both.
If cost is a major consideration, you'll want to go with the Model 220, and the fact that they're both 39 inches in diameter makes it a stronger case.
However, if you have the budget and want a workout DVD, the Model 250 is for you.
Regarding the JumpSport Sport Grip Bar, it really is a matter of personal preference. As we pointed out earlier, the handlebar is a practical tool for first-time users and those looking for added stability. If that's what you're looking for, then get one.