As some people say, when it comes to trampolines, it's the springs that make the magic happen. The amount of force put on the springs determines the resulting bounce, making them integral components of the said leisure equipment.
However, springs also tend to be one of the most dangerous parts of these playthings. Their movements and construction can hurt jumpers when landed on. Statistics back up this claim as experts say that this is one of the leading causes of trampoline-related injuries.
While the industry has taken the American Academy of Pediatrics recommendationson how to improving the safety measures of trampolines, accidents can still happen. Even with padded spring covers, landing on the spring can still hurt jumpers seriously in certain circumstances.
This is why the appeal of the Springfree Trampoline is growing lately. Without any springs to land on, they can be safer alternatives to traditional trampolines. The only real thing that's keeping a lot of people from opting for one is their price tag.
Just how much is a Springfree Trampoline?
They range from $1000 to $2000, just like some of the higher-end traditional trampolines. Not everyone is willing to spend as much but there are tons of good reasons that make it a worthy investment.
Things to Consider About How Much a Springfree Trampoline is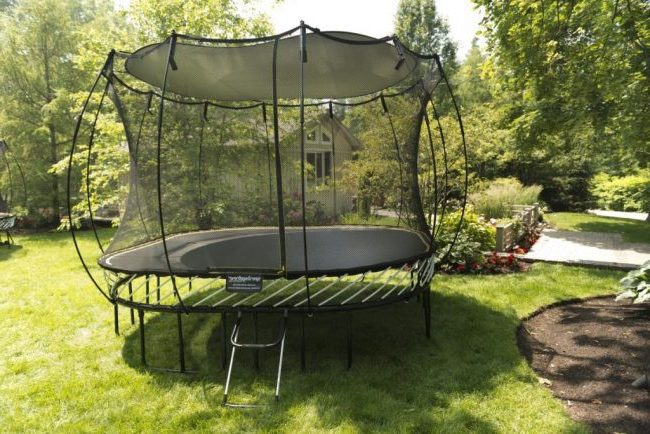 Why should you consider getting a Springfree Trampoline despite its price tag? Here are a few considerations that might just help convince you that it can be a good investment for you.
It Offers a Safer Alternative to Traditional Trampolines.
There are several reasons how Springfree trampolines can be deemed safer options compared to traditional units. For one, Without the springs, the surfaces that can cause an injury to jumpers are reduced.
You won't have to worry about avoiding the springs or looking for nicely padded spring covers to protect you from the dangers of these components. You can then just focus on bouncing around and getting the physical activity you can enjoy with this outdoor equipment.
They Also Eliminate Other Impact Points that Can Pose Risks to and Injure Jumpers.
Aside from being springless, these trampolines are also designed without other possible impact points that can harm the jumper. Aside from replacing the springs with fiberglass rods, they also hid the frame so you won't land on it even if you veer away from the center of the jumping area.
What's even better is that they're equipped with the SoftEdge Mat. This feature adds cushioning to the frame, so the area won't be too hard on your body in case you land on it.
To top it all off, their FlexiNet Enclosure replaces the traditional enclosure support poles with something more flexible but still capable of holding a lot of weight. So instead of creating an impact and hurting yourself when you land on them, they accommodate your weight by bending then recoil to push you gently back to the mat.
The Unique Design Easily Justifies the Cost.
With the design details mentioned above, you can already see what sets Springfree's products apart from traditional trampolines. These can also explain why it's priced as such.
But to really drive the point home, it should be emphasized that to come up with such unique features, this product took years of development. The research for a springless trampoline started in 1992 but the first prototype only came out in 1999. It took another five years for the brand to start selling its products commercially.
It Won Several Awards from All Over the World.
Its impressive design didn't go unnoticed, though. So aside from receiving a lot of love from consumers, Springfree trampolines also received lots of recognition from different respected award-giving bodies. These include the:
2014 RedDot Product Design Award
2013 Toyology Outdoor Toy Awards
2016 Good Design Awards for Product Design in Sport & Lifestyle category and Digital Design in Interface Design category
2009 Best Award, New Zealand
2009 International Design Award
2010 Product of the Year, Canada & USA
2011 Kidspot Best Of Award, Australia
2017 CHOICE Recommended
Springfree Trampolines Have Bigger Jumping Space.
Without the springs, the Springfree trampolines also offer bigger jumping space so you can do more with this brand's products. Opting to go a size smaller than your old spring trampoline might even be a better choice for some. It can help you save some money without sacrificing your play area.
Springfree Trampolines are Built to Last.
Another good justification for Springfree trampolines is the fact that they're built to last. The components of their products are designed to take on a lot of weight and impact without buckling. And as everyone knows, such materials aren't the cheapest.
These products also have relatively high weight recommendations. The biggest units can take on up to 220 lbs, so a lot of adults can enjoy playing on these things, too.
Did you also know that the brand offers a 10-year warranty on each part? That's a whole lot more than what other manufacturers can offer, so it's a good guarantee that their products are worth your while.
Their Units are also Weather-resistant.
To top it all off, the materials used in the springless trampolines from this brand are weather-resistant. They're tested for UV-protection for thousands of hours. As a result, the materials won't weaken over time even if you leave them outside.
With proper use and maintenance, your household can be guaranteed to enjoy years of playtime with a Springfree trampoline.
Purchases Often Come with Freebies.
Last, but not least, the freebies that come with Springfree Trampoline purchases are also worth considering. They might not be much, but they can better stretch your money's worth, so you should at least give them a shot.
Note, however, that not all sellers offer freebies. Buying direct tends to come with bonus offers, though. So if that's a convenient option for you, you might also want to do that.
Final Verdict
It's easy to understand why most people ask first how much is a Springfree Trampoline. The innovations their products come with definitely come at a premium, so they're not expected to be cheap.
However, those who think that they're too pricey for them might want to reconsider. With all of the points mentioned above, it should also be easy to see that it's worth investing in. It might just save you from the hassle of replacing your unit every year. It can also keep you from spending money on medical bills. Give it a shot and Springfree trampolines might just surprise you with everything it has to offer.