Up to now, a significant number of adults view trampolines merely as a plaything for kids.
More than that, the trampoline is considered to be one of the most popular and effective sports for children and adults.
If you've got a big lawn or backyard in your house, why not invest in rebounders that yield fun and fitness at the same time.
And if you are thinking of one, go for a trampolinethat gives you safety and does not impose restrictions as to the size. One good suggestion is the ExacMe 15-foot Trampoline that promotes fitness and allows the kids or family to bounce together. With just a single purchase, you have everything you need.
Features and Specifications
Dimension- This ExacMe all-in-one combo trampoline measures 15 feet in diameter. It is 3.1 feet high from the ground and 9 feet high including the enclosure net.
Capacity- It claims to have the highest maximum weight capacity in the market, which is 375 pounds.
Content- As an all-in-one set, the trampoline comes with a safety pad, enclosure, and ladder.
Pros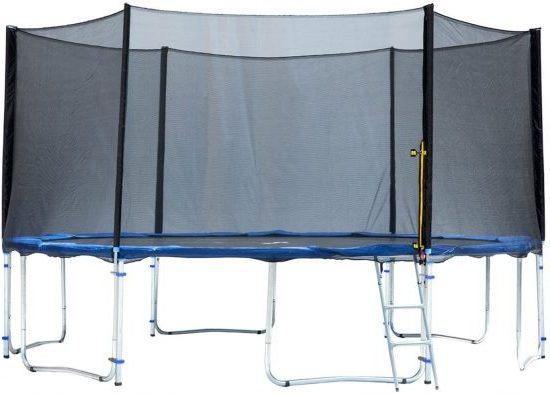 Easy to Assemble
The hugeness of a 15-ft trampoline can be intimidating especially that trampolines do not arrive at your door completely assembled. But this should not be the case with this all-in-one combo from ExacMe. With the manual or instructions and a good assistant, you will be able to install the trampoline in a couple of hours as attested by many reviewers who have purchased the same. A one to three-hour assembly time will absolutely pay off as your family will love and enjoy this trampoline for a very long time.
Roomy
Having a large family can be fun but challenging, especially if you have young kids fighting over who goes up first on the trampoline. Make your trampoline bonding more fun (and more peaceful) with this one. This 15-ft trampoline is huge and therefore gives more room for kids to enjoy. You can even climb inside to join your little kids and make trampolining a bonding experience. The ladder makes it easy even for the kids to access the trampoline. Moreover, don't worry about the poles as they are covered with foam to lessen the impact.
Stable
ExacMe 15-ft Trampoline has a maximum weight capacity of 375 lbs, the highest in the market. Impressive! This obviously has no use if it is not built strong and sturdy. But not with this trampoline as it is built with 6 U-shaped legs that come with 12 balanced contact points. It adds stability to support the weight and activity on the trampoline. This is relatively safer than other trampolines with only four or five legs. It also uses strong straps and ropes to hold the net and poles together to ensure safety.
Heavy Duty
A trampoline as big as this ExacMe 15-ft rebounder is relatively more expensive than the smaller ones you can install inside the house. So when you choose a trampoline, it better be heavy duty and reliable for years. This trampoline features hot deep galvanized frame steel and steel tubes. The said rust-resistant materials along with the galvanized springs ensure that they can stand any weather for many more years especially since this trampoline works for outdoor use. All the materials used in this trampoline are likewise UV protected to add longevity and durability to the rebounder.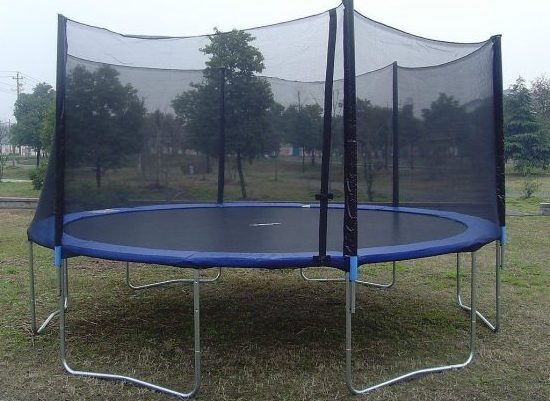 ExacMe 15′ Ft 6W Legs Trampoline
Cons
Nevertheless, this ExacMe 15-ft Trampoline has also some disadvantages. First, the size of the trampoline suggests that this could only be used outdoors. This means you may not enjoy its benefits when the winter season comes unless you have a huge space in your garage. Second, while it is easy to assemble, this trampoline is not portable because of its weight. Make sure you have carefully planned for a strategic location where you want to install the same.
Conclusion
Spend quality time with the entire family trampolining for fun and fitness with a stable, spacious, and reliable trampoline that is the 15ft ExacMe All-in-one Set!
Check outour safety guidesif you're having a trampoline in your backyard!
ExacMe 15′ Ft 6W Legs Trampoline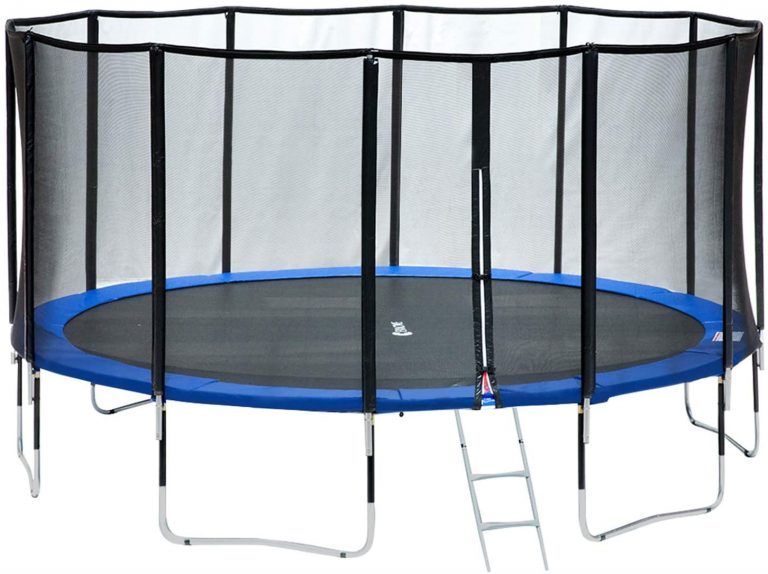 Product Description: The ExacMe 15′ Ft 6W Legs Trampoline represents a breakthrough in safety, performance and durability. This giant trampoline also offers easy assembly and disassembly. It ships flat, so you will save on shipping costs. At $529.99 it is a great bargain for the price.
Quality

Affordability

Durabilty

Performance

Fitness
Summary
Ideal for the whole family, this trampoline features premium springs and a high-quality frame for optimal bouncing performance.
In addition, it can accommodate up to three children at a time thanks to its included enclosure net. The heavy-duty protective net ensures that kids stay safe while jumping as it prevents disengagement so that no one falls off.
This trampoline uses a bungee cord system instead of springs to keep it in place and prevent damage when moving around the yard. The trampoline's steel frame is designed to last through years of use and is rust-proof to provide lasting durability.