If you want everyone to have fun at home, setting up a safe trampoline in your backyard is a great way to enjoy hours of fun. This outdoor equipment is one of the most exciting and thrilling things in your home and can provide hours of fun and exercise.
However, due to the physicality of these products, they also tend to posesome danger to users. A low-quality and poorly constructed unit might not be capable of holding up your weight and causing injuries. Mix this with improper use or overly excited kids and you have a recipe for disaster.
If you do want one in your home, it is vital to understand what makes a trampoline safe. This way, you can eliminate the dangers of low quality equipment and instead focus on getting your child to learn to use the equipment properly.
Doing so will minimize the risks of playing on a trampoline, so you can rest assured that the equipment you have will lead to a good time and nothing else.
Things To Consider When Buying a Safe Trampoline
So, how can you be sure if the product you're eyeing is a safe trampoline? It should have the following, for starters:
A Sturdy Frame
A good, solid frame is essential if you want to ensure that the trampoline does not collapse under the weight of the user. As this is the part that supports the equipment, it must be able to withstand heavy loads, the huge impact of use, and the action of the springs. If there is a weak frame, you will not be able to enjoy going up and down as you may feel uneasy about using the trampoline as you are not sure how it will be supported.
To ensure that the frame of the item you are interested in is durable, you should take a closer look at the materials it uses. It should be made of heavy duty metal. If adults are going to be using the unit, you should look for something of a high specification. This will ensure that the metal can withstand a lot of weight.
The construction of the frame is also something that you must take very seriously. It should have smooth welds, as any bumps, cuts or protruding edges can snag clothing or cut you or anyone else using the trampoline. These may be minor, but they will certainly reduce the amount of fun you can get out of the unit, making it a less than ideal investment for your family.
Quality Spring Construction and Design
The springs are the very components that can make or break a trampoline. They have a direct effect on your bounce through how taut they hold the jumping surface. The idea is, the tighter they are, the higher the trampoline's maximum weight limit will be. You'll want tight springs to enjoy a nice bounce and wider weight range but they can be quite expensive, so there's a higher chance of finding trampolines with flexible springs instead.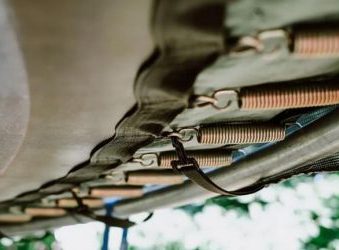 Although springs are one of the most important components of a trampoline, they also pose a huge risk to the user. They can trap the legs and even lead to strangulation in some cases. Your skin can also be pinched and cut by these components.
To reduce the user's exposure to these parts, most trampolines now have covers over the spring area. However, these materials can still be cut through, leaving the springs exposed again.
Padded covers are also available and as they use more material to cover the springs, they can be a great option to minimize the risk of these trampoline parts.
If you simply don't want to put the safety of your family and friends at risk, then choosing a trampoline without springs is another option worth considering. This alternative utilizes other elastic materials in place of metal springs.
They may not be as bouncy, but if you really want something that won't endanger your children, this may be an option worth considering.
Ideal Shape and Size for Your Needs
Trampolines come in different shapes and sizes. Some are intended for professional use, while others easily meet the most basic needs. Rectangular trampolines are often used by gymnasts as they offer a more controlled take-off.
On the other hand, round trampolines are considered safer as they have a tendency to push jumpers into the centre of the mat, keeping them away from spring landings. Other trampoline shapes are available and choosing one should depend on your needs, as their shape greatly affects their bounce.
As for size, the idea here is that the larger it is, the safer it is as it provides more jumping area. This minimises the chances of the user landing on the spring or the edge of the device, which could lead to injury or someone getting hurt.
A Good Weight Limit
It's not because the trampoline is big that it means multiple jumpers can already do it at the same time. You still have to be cautious about the weight limit of the trampoline. Exceeding the weight limit may not immediately cause the unit to collapse, but it could happen, depending on how much weight you put on the unit.
If the trampoline doesn't make an immediate sound, its springs and frame can take a big hit from ignoring the weight limit. This could significantly shorten the life of your equipment, which could amount to an accident waiting to happen.
A Well-Designed Enclosure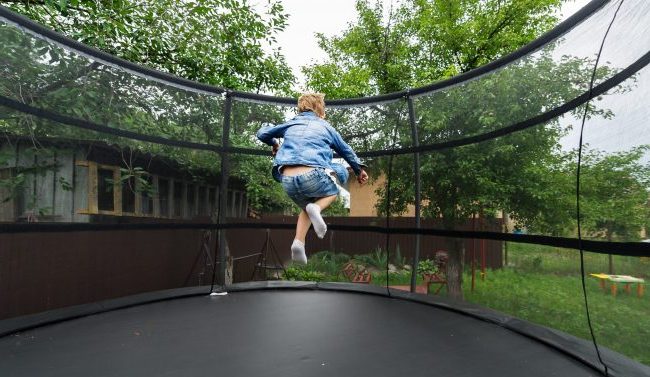 A good enclosure can help make the trampoline safe. You should look for a net that uses small gaps to prevent fingers and limbs from getting caught and padded poles to create a cushioning effect in case of impact.
The construction of the enclosure is also key in determining how safe it is. It should strike the perfect balance between flexibility and sturdiness. This way, it will not create too much resistance in the event of a jumper advancing towards it, but still have enough stability to keep the whole unit from falling over. It should also be able to withstand the weight of the jumper without causing damage on contact, like a hard wall.
Final Verdict
When it comes to this outdoor equipment, a safe trampoline should always be what you're after. It doesn't matter if it's for recreation, performance, or exercise – it's essential that you look for something that won't put the users' wellbeing at risk.
Finding a quality unit and using it while following precautions from experts can help you ensure that you will be able to spend a marvelous time in trampolines with the whole family without any worries.