Most of us have trampolines in our backyards. But what to do with it in the winter? Keep it or put it away? This is a question that many of us backyard owners often ask. Some people prefer to store their trampolines indoors during the winter, while others prefer to cover them up and put them outside; however, there are pros and cons to both approaches.
Taking it Apart
Taking apart your trampoline will help protect it throughout the winter.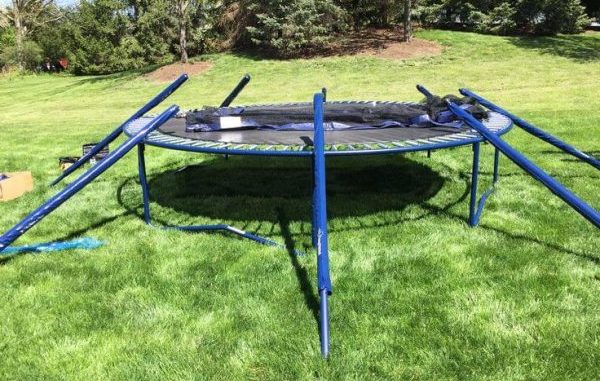 The first thing you will want to do is remove all of the springs, which should be fairly easy if you have done this before. Simply disconnect the end of each spring and remove it from the frame. Also remove any enclosures and padding that may be on your trampoline.
Another thing to consider when taking apart your trampoline is what to do with all the parts you are taking apart.
For example, if you are removing the springs and frame, you will need to find a place to put them in a dry and out of the way location. Having a storage room or garage where you can put everything over the winter is ideal. If you don't have such a storage area, consider investing in one, especially if your trampoline is large enough for many people to use at once.
Should you Disassemble your Trampoline in Winter?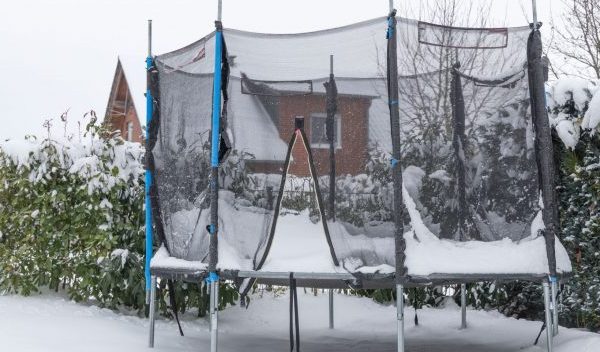 It is possible to protect a trampoline in winter, but it can be extremely difficult and costly. However, how much does the safety of your children matter? If you want to protect your trampoline, you will have to invest a lot of time and money in order to do so.
1. Remove the Net Enclosure
If you have a trampoline with a net enclosure, you will also need to remove it before winter arrives. If you live in an area that gets a lot of snow during the year, you must take the time to remove it. Even if your area does not usually get snow, you should remove the enclosure before winter arrives just in case.
2. Remove the Spring Pad
Apparently, the best way to protect your trampoline in winter is to remove the spring pad and store it indoors. This will help prevent rusting of metal parts that might otherwise keep the springs from bouncing back firmly when spring comes around.
Just like the net enclosure, make sure it is clean and dry before you put it away.
3. Anchor Down the Trampoline
Snowstorms and winter storms sometimes bring strong winds, which can cause damage to delicate items such as trampolines.
The best way to protect your trampoline from wind damage is to use trampoline anchors.
These anchors will hold the trampoline firmly in place on the ground during inclement weather. The anchors should be placed in different areas around the trampoline so that the entire structure is securely attached. These anchors are easy to install and can be removed when not needed. You can install them quickly when you see a storm approaching your area.
The cost of these anchors is very low compared to the potential damage they can prevent, and they are a must-have item for any home with a trampoline.
4. Use a Weather Cover
Having a good quality rain cover for your trampoline will protect your investment from extreme cold and snow. A cover will also protect your trampoline from leaves, rain and other debris.
Make sure the material of the weather cover or tarp is UV resistant and will not deteriorate over time. Also, choose a cover that doesn't have sharp edges or burrs to avoid damaging the trampoline.
The weight of snowfall can accumulate quickly on a trampoline. A cover designed for your particular trampoline model will help prevent it from being blown away in strong winds.
The cover should at least be properly secured with rope, although it is even better to tie it down with stakes and bungee cords.
5. Remove Mat and Springs in Worst Situation
When the weather is inclement, many people will put the trampoline inside the house. In fact, some will even remove the mat and springs and put them inside. But is this necessary?
First of all, even if the weather is bad outside, you can still use the trampoline to exercise when you are at home. So there's no need to take it down.
Second, before storing the trampoline in winter, make sure you have removed the mat and springs. If not, you'll have a lot of trouble putting everything back together again.
When there is heavy snow or a long period of freezing temperatures in the winter, the pad and springs should be removed. Otherwise, they can cause problems when it comes time to put everything back together.
6. Regularly Clean and Check the Trampoline
It is recommended to clean the trampoline regularly, but not only in the summer. It is also necessary to do so in winter.
If you live in a cold country, you must be aware of the fact that water freezes and expands, which can damage the frame of the trampoline. The material can also become brittle.
It is recommended to wipe off the dirt with a damp cloth. If you find any rust spots, clean them with bleach or other cleaners suitable for metal parts.
If there are cracks or holes, fill them with silicone sealant before the cold weather arrives.
In the winter, cover your trampoline with a suitable net and remove the mat. This will protect your trampoline from snow and ice buildup, which can lead to dangerous conditions.
Safety Tips to Jump on Trampoline in Winter
The weather is getting colder, which means winter is almost here. Cold weather can be dangerous for trampolines and it's a good idea to secure the trampoline with netting or cover it during the winter.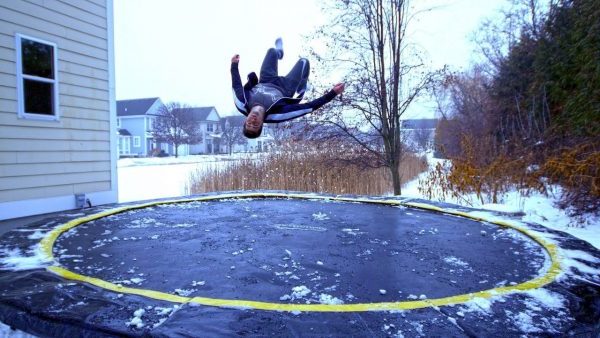 Here are some tips to jump on the trampoline in winter:
1) Turn off the electricity before you jump on the trampoline. Don't touch the metal spring, especially when you're jumping. Don't jump on the trampoline when there's ice or snow on it because you'll slip and fall down.
2) Check if your trampoline has rust. Rust can affect the safety of your trampoline.
3) You can use netting to secure the whole trampoline so no one will get hurt during a snowball fight.
4) Cover the springs with a thick blanket to keep them from freezing and breaking in cold weather.
5) Check if the legs are frozen before using it again in spring. The frozen legs will make your trampoline unstable and unsafe to use.
Conclusion
Protecting your trampoline is definitely worth it – not only will it extend the life of the springs and padding, but it will also keep your child safer. This winter, consider covering your trampoline so you don't have to worry about it falling apart when the temperature starts to drop.